Zoe Kravitz And January Jones Join X-Men: First Class; Is Kravitz Secretly Playing Storm?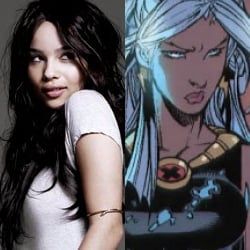 UPDATE: Turns out all our fun speculation was for naught-- on Twitter Fox publicist Chris Petrikin has countered that Kravitz will in fact be playing a character named Angel, different from the Angel seen in X3 and, yes, female. You can read more about her here.
Given the limitless roster of mutants in the X-Men universe I wouldn't be surprised if the casting process for X-Men: First Class really did go on until the end of time. As production gets ready to start at the end of the month we're getting a new announcement seemingly every hour, and now here are two big ones-- Deadline reports that January Jones will play Emma Frost and Zoe Kravitz will play Angel.
This news is confusing in many different ways, so let me start from the beginning-- we've been presuming for months now that Alice Eve had the role, to the point that she was included in nearly every casting roundup, but apparently she never made a deal and was handily replaced by Jones instead. Kravitz is far trickier-- not only is the character of Angel male and played by Ben Foster in X3, but the character was introduced as having had no contact with the other mutants in the past, and as we know this is a prequel. It's possible Kravitz won't be playing Angel at all, and instead this is another one of those casting misdirects we warned you about in July. Feel free to speculate all you like about who Kravitz might really be playing, but I'll wager something substantial she's stepping in for Halle Berry and playing Storm.
Two more names figure into the piece, one of which, Morgan Lily, we told you about earlier. The other is Bill Milner, a 15-year-old who will play a younger version of Magneto. No, I have no idea how a teenage Magneto is going to fit into this story, nor why we don't have casting for an equivalent teenage Professor Xavier. For all I know Milner is playing Cyclops and this is a total misdirect. At this point I'd rather crawl into a hole than report on this endless X-Men casting process one more time. Can someone wake me when the cameras finally start rolling?
Image 1 of 3
Your Daily Blend of Entertainment News
Staff Writer at CinemaBlend