Two Jeff Goldblums Are Better Than One In Fun New Independence Day 2 Video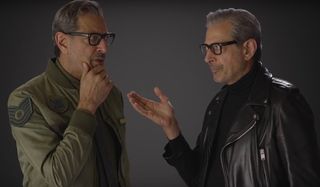 Over his four-decade acting career Jeff Goldblum has made a name for himself as having one of those most unique personalities in Hollywood. Call him being eccentric or simply look at him as an odd duck, he's a joy to watch both as his various characters or just being himself in interviews and other scenarios. So what's better than one Jeff Goldblum? Duh, two Jeff Goldblums, both of whom you can see together in a new Independence Day: Resurgence promo video.
Under the title, "ESD Films Presents: Conspiracy Theories," this Independence Day: Resurgence video finally debunks one of the biggest conspiracies following the War of 1996, a.k.a. the first movie: that David Levinson and Jeff Goldblum are the same person. Yes, it appears that the actor does indeed live on Earth in the Independence Day universe, and despite the two of them looking exactly like the Earth Space Defense director and choosing the same eyewear, they're not one and the same. When they finally meet, Levinson believes the resemblance is "fleeting," while Goldblum suspects otherwise.
The full Goldblum/Goldblum weirdness really kicks off when the actor describes David Levinson's eyes are like "a glass of brandy on a table as the sun comes in the window at sunset." Then Levinson mistakingly believes that Goldblum starred as the boss in Nine to Five, but then realizes he was thinking of Dabeny Coleman. Not familiar with his acting work, Levinson then believes Goldblum was Bowzer in the band Sha Na Na, but once again, incorrect. Levinson clearly doesn't know who the hell Goldblum is, but fortunately, the actor picks things back up by commending Levinson for his "pivotal" work in keeping Earth safe in 1996 and beyond. Unfortunately, they didn't exchange contact information by the end, so don't expect them to become texting buddies.
While Independence Day: Resurgence won't feature any more David Levinson and Jeff Goldblum encounters, the real Goldblum (yes, we're back in our reality now) will reprise Levinson 20 years after he helped save the world from an alien invasion. In the decades since, Levinson has helped strengthen Earth's technology and weaponry for both the betterment of humanity and in anticipation of more aliens coming. He proves to be right regarding the latter, as another invading force has arrived in the sequel, and they're much bigger than the last one. Ideally Goldblum is able to find a safe spot to hide during the new war, and let's also hope he's not plugging one of his new movies near any historical landmarks. The alines love to take those out first.
Independence Day: Resurgence will be released in theaters on June 24.
Connoisseur of Marvel, DC, Star Wars, John Wick, MonsterVerse and Doctor Who lore. He's aware he looks like Harry Potter and Clark Kent.