Why It Took 20 Years To Make Independence Day: Resurgence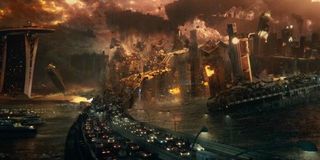 Independence Day: Resurgence has been 20 years in the making. In fact, when it finally hits cinemas on June 24, it will be just under two decades exactly since Independence Day was originally released. Director and co-writer Roland Emmerich has now opened up about why it's taken so long for the follow-up to come to fruition, admitting that he was just waiting for cinematic technology to catch-up with his vision.
Roland Emmerich made this admission while talking to io9 ahead of Independence Day: Resurgence's release, explaining that the sheer size of his proposed alien ship (it's as big as the Atlantic Ocean) had always been too ambitious for the previously puny cinematic technology.
20th Century Fox have probably been asking for an Independence Day sequel ever since the original smashed into and pulverized the zeitgeist back in 1996, becoming the highest grossing film of the year as it took in $817.4 million. At the time that left it the second highest-grossing film ever made, with only Jurassic Park topping its total.
This success provoked a spate of other big-budgeted disaster films from Hollywood studios, while 20th Century Fox soon started asking Roland Emmerich for ideas regarding Independence Day 2. But the German soon realized that his plans were so enormous that he'd have to wait for cinema to catch up with him.
By 2009 it finally had, something that Roland Emmerich realized while working on another disaster film, 2012. The filmmaker came to the conclusion that through the use of digital cameras and an abundance of blue-screen, he could finally create the Independence Day sequel that he'd dreamed up. The trailers for which prove that it is much bigger in scale than the original.
But the question now is will Independence Day: Resurgence be able to match the original film's appeal even though it was released over 20 years ago? Its trailers have done a good job of proving that it's a substantial upgrade to its predecessor, while the return of Jeff Goldblum, Bill Pullman, Judd Hirsch, Vivica A. Fox, and Brent Spiner, as well as Roland Emmerich himself, means it should have enough similarities to its predecessor to entice viewers, too.
But the summer slate is now much fuller than it was in 1996, and 20th Century Fox will be slightly sweating having spent $200 million on the blockbuster. They'll get to see if they get a return on their investment when Independence Day: Resurgence is released on June 24, 2016.
Your Daily Blend of Entertainment News
Your Daily Blend of Entertainment News
Thank you for signing up to CinemaBlend. You will receive a verification email shortly.
There was a problem. Please refresh the page and try again.