The Female Ocean's Eleven Remake Is Putting Together An Incredible Cast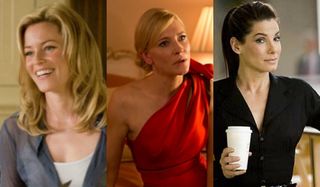 Brad Pitt, George Clooney and their pals' remake of Ocean's Eleven is regarded as having one of the coolest casts of all time. But from the looks of things, the female-led Ocean's Eleven remake is going to eclipse its predecessor's team of thespians. Because the ladies that have been assembled for director Gary Ross' fresh take on the heist thriller is truly sensational, according to early reports. Let's take a look at who they've now got on-board.
Sandra Bullock
Arguably the most popular actress in American cinema, the Oscar-winning actress was probably the first name mentioned when the idea of a female-led Ocean's Eleven was first dreamed up. Funny, affable yet still able to add weight and drama to any situation, we're still not 100% sure if Sandra Bullock is taking the titular lead in the remake, which was previously played by her old pal George Clooney and, before him, Frank Sinatra. But the thought of her sparring on screen with her co-stars below makes that question almost irrelevant, and the thought of Ocean's Eleven truly exciting.
Cate Blanchett
After years of showing off her serious acting chops in the likes of I'm Not There, Carol, and The Lord Of The Rings trilogy, Cate Blanchett is clearly now in the market for more laid-back and fun parts with the revelation that she'll follow up her appearance in Thor: Ragnorak with Ocean's Eleven. Like Bullock, she is a fellow-Oscar recipient, but unlike her impending co-star she has two of the accolades. I'm going to go out on a limb and predict that Blanchett will actually play the Brad Pitt part to Sandra Bullock's George Clooney, while just her mere presence is likely to elevate the performances of her co-stars. Starting with ...
Elizabeth Banks
Is this why Elizabeth Banks recently dropped out of directing Pitch Perfect 3? Almost certainly not. But, according to Showbiz 411, the temptation of starring in such an alluring ensemble has proven too much for the director/producer/actress. It's always good to see Elizabeth Banks on screen, and with Bullock and Blanchett likely to be leading the way in Ocean's Eleven, Banks reportedly is set to be deployed as the third lead of the film. Matt Damon previously took this role in Ocean's Eleven, and Banks has the concoction of wit and dramatic heft to mix it with the above actresses without being over-awed.
Helena Bonham Carter
It's a scientific fact that every film is immeasurably improved by the inclusion of Helena Bonham Carter. Much more alternative than the above trio of actresses, Helena Bonham Carter will almost certainly bring an unpredictability and edge to the Ocean's Eleven remake, all while easily adding her own elegance and panache to their gang, too. Plus, her English accent will undoubtedly be superior to Don Cheadle's woeful attempt from the previous franchise, which is widely regarded as one of the worst to ever be committed to celluloid.
Mindy Kaling
This is the casting decision that really has me excited for the impending Ocean's Eleven. While deciding that two of the most respected and revered actresses in the world in Cate Blanchett and Sandra Bullock should be included was clearly an easy decision to come to, and bringing in Elizabeth Banks and Helena Bonham Carter wasn't too much of a stretch, too, Mindy Kaling is a lesser known commodity. Sure, she provided a voice in Inside Out, but she's mostly seen as a TV actress and writer, after her work on The Office and The Mindy Project. That doesn't stop her from being downright hilarious, though, and her addition makes Ocean's Eleven more eclectic and immediately more endearing.
For those of you with inferior math skills, that only makes five of what I'm going to assume is Danielle Ocean's posse. Meaning that we have six more casting decisions to be revealed. And I for one can't wait to hear who joins the above quintet. But it actually doesn't matter too much. Because I am already brimming with excitement for the new Ocean's Eleven film, which will hopefully have its cast confirmed soon, for a production start date of 2017, before it's released in 2018. If we have to wait longer than that then I will simply cry.
Your Daily Blend of Entertainment News