Die Hard Owes Its Existence To A Crazy Car Accident, According To The Screenwriter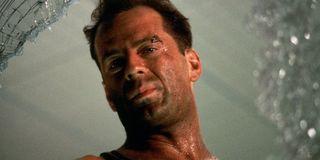 Fate really is a fickle factor in life. One moment, you're a sequel to a picture starring Frank Sinatra, and the next you're the first film in a run-away box office franchise. That's pretty much how it happened for the _Die Hard _ franchise, and if certain vital changes weren't made, we would be one 80's franchise short this very day. And it all happened thanks to a crazy accident involving a refrigerator box.
Author Brian Abrams recently released the Kindle Single, Die Hard: An Oral History, which explains the behind the scenes wheelings and dealings that made up the process of getting the iconic film off the ground. Interestingly enough, Die Hard was originally a more direct adaptation of Roderick Thorpe's novel Nothing Lasts Forever, which involved an aging detective and his rocky relationship with his grown daughter playing out during the siege of a skyscraper. However, screenwriter Jeb Stuart got into a fateful argument with his wife one night, and as he sped away from his home, a refrigerator box fell out of the vehicle in front of him. Thankfully, it was just a box, and not a full refrigerator, but the shock was enough to convince Stuart to revise the script in the following manner.
Yes, you read that correctly. Die Hard almost featured a more aged lead and a severe downer of an ending, and that's all due to the source material. Nothing Lasts Forever was the follow Roderick Thorp's follow-up to his previous book, The Detective. Since Frank Sinatra had played Joe Leland, the titular role in The Detective, he was the original choice for the role in the sequel. However, fate had other plans, and Joe Leland became John McClane, paving the way for a bartender from Jersey named Bruce Willis to take the role of a lifetime. To think, if it wasn't for that Frigidaire box, we wouldn't have the trailer below, or the iconic film that it sold.
Another funny fact about Die Hard is how it got its memorable title. Now, admittedly, Nothing Lasts Forever almost sounds like it belongs to a Danielle Steel or Sidney Sheldon book of the 1980's, a fact that more than likely wasn't lost on producer Joel Silver. As if on cue, Fate stepped in and bumped Silver over the head with the title, as it was originally meant for a Shane Black script that was being finessed at the time. Black did Silver a solid and let him walk away with Die Hard as the title of his new film, and in return that project was re-titled with a snappy new name: The Last Boy Scout, which also starred Bruce Willis.
To think, all of the changes made to Die Hard wouldn't have happened, if it weren't for the fact that a refrigerator box scared an angry screenwriter to death. It has to be said, the more faithful / downer version of Nothing Lasts Forever, starring Frank Sinatra, is an intriguing proposition. But if it had to be sacrificed to bring us to the party that was the siege of Nakatomi Plaza, then that sits very well with us. So let that be a lesson to you Hollywood: watch the signs, and take inspiration when it comes. Otherwise, you never know what you'll be missing.
Die Hard 6, a prequel involving a young John McClane's time at the NYPD, is currently in development; while you can purchase Brian Abrams' Die Hard: An Oral History through Amazon.com.
CinemaBlend's James Bond (expert). Also versed in Large Scale Aggressors, time travel, and Guillermo del Toro. He fights for The User.
Your Daily Blend of Entertainment News
Thank you for signing up to CinemaBlend. You will receive a verification email shortly.
There was a problem. Please refresh the page and try again.