The X-Men Role Rampage Jackson Turned Down, And Why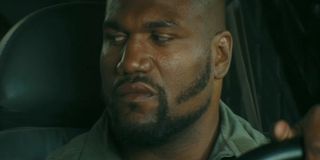 Quinton "Rampage" Jackson is best known as one of the world's best MMA fighters, but like a scattering of other athletes, he's also tried his hand at acting. His most prominent role is playing B.A. Baracus in the 2010 A-Team movie remake, but that wasn't the only major Hollywood blockbuster he could have starred in. Jackson also had the opportunity nearly 10 years ago to play John Wraith in X-Men Origins: Wolverine.
While asked by TMZ whether fellow fighter Holly Holm made a good decision turning down a movie role in favor of focusing on her fighting, Jackson revealed that he's passed up other acting gigs in the past, too, including the opportunity to star in 2009's X-Men Origins: Wolverine to also focus on his own MMA fight. Instead, the X-Men prequel brought in, as the article puts it, a rapper who brought the "boom boom pow," a.k.a. will.i.am from The Black Eyed Peas.
For those who haven't watch X-Men Origins: Wolverine in a while, John Wraith was part of Team X with Wolverine and Sabretooth. He had the ability to teleport, making him an especially important asset on the black ops team. After Team X collapsed following Wolverine's departure, Wriath set us his own boxing club, where he trained fellow team member Fred Dukes, a.k.a. The Blob. Wolverine recruited Wraith to help him track down Gambit in New Orleans, but when he saw Sabretooth following them, he engaged the savage mutant, and his teleporting seemed to give him the upper hand at first. Unfortunately, he was, as Sabertooth put it, "predictable, and this led to his spine being crushed as he rematerialized. Not a great way to go out.
Although X-Men Origins: Wolverine was a financial success, it's largely considered to be the worst of all the X-Men movies, and when you really take a step back and look, John Wraith didn't play that big of a role in the story. It's hard to say whether Quinton Jackson in the role instead of will.i.am would have made a significant difference, although I imagine that Quinton's version of the teleporter would have been a much more powerful fighter. Maybe he could have knocked out Sabertooth way sooner, saving him from that gruesome death. Nah, probably not.
Since The A-Team, Quinton Jackson's most notable acting role is providing his voice in an episode of The Cleveland Show, but he's still chugging ahead with his fighting career. We can't say for sure whether appearing in X-Men Origins: Wolverine would have made a significant impact on his acting career, but in this case, it's safe to say that choosing the fight was probably the better decision for how to spend his time.
Connoisseur of Marvel, DC, Star Wars, John Wick, MonsterVerse and Doctor Who lore. He's aware he looks like Harry Potter and Clark Kent.
Your Daily Blend of Entertainment News
Thank you for signing up to CinemaBlend. You will receive a verification email shortly.
There was a problem. Please refresh the page and try again.