Is Sabretooth Really In Wolverine 3? Here's What Liev Schreiber Just Said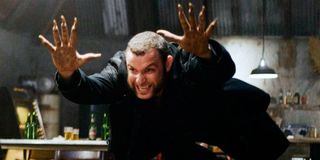 Will he or won't he? Will Liev Schreiber's Sabretooth make a reprisal in Hugh Jackman's last Wolverine movie after debuting in X-Men Origins? A tweet from the actor seemed to suggest that he would be, but now it seems we all were reading too much into it. Schreiber recently hit up The Tonight Show Starring Jimmy Fallon to clear up the matter.
When the late-night talkshow host first brought up the subject, the actor clarified,
In mid-August, Jackman posted a photo on Twitter of himself bulking up at the gym, which seemed to indicate he was preparing for his last stint as Wolverine. Schreiber then responded by tweeting, "do I have to do that…" Though this was clearly not a confirmation of his character's involvement, it was enough to plant a seed. After a playful back-and-forth accompanied by audience laughter and cheers, Fallon naturally followed up by asking if he'd want to come back. Schreiber said,
Still not much is known about the plot of the third solo Wolverine movie. James Mangold, who directed the actor in The Wolverine, returns to helm him once more from a script from Michael Green. Jackman hit up San Diego Comic-Con earlier this summer for 20th Century Fox's slew of panels. He teased the "Old Man Logan" story line from the comics while on stage and revealed a promotional image for the film with Wolverine's middle claw protruding from his knuckles. Elsewhere, after Patrick Stewart, who plays the older version of Professor Xavier in the films, teased his return for Wolverine 3, he confirmed the news. The Old Man Logan story features a post-apocalyptic future of sorts in which Logan is, obviously, an older man and the last remaining X-Man. An appearance from Sabretooth wouldn't be out of the realm of possibilities for this story, especially since superhero movie makers tend to take liberties with the source materials. Though, we'll have to hang tight as the cast firms up.
Watch Schreiber's full comments to Fallon in the clip below.
The third Wolverine movie is scheduled to hit theaters on March 3, 2017.
Your Daily Blend of Entertainment News