The Power Rangers Movie Has Finally Found Its Zordon, And He's Fantastic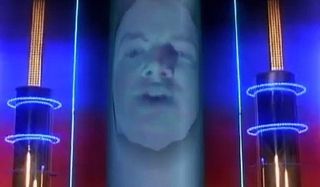 The actors playing the lead heroes in Power Rangers (opens in new tab) may not be recognizable to most people, but the cinematic reboot is making sure to support them with familiar Hollywood faces. Earlier this year, Elizabeth Banks was cast as main antagonist Rita Repulsa, meaning that the multi-colored superhero team could use some much needed star power on their side. Now it's been revealed that Breaking Bad star Bryan Cranston will play their mentor, Zordon, in the upcoming movie.
Cranston announced the news on his Twitter page today, which soon after was retweeted by the main Power Rangers account. It read:
Eventually the Power Rangers account dropped the news in their own special way, showing the same 'head by the lightning bolt' format they used for the previous casting announcements.
Fun fact, this won't be Bryan Cranston's first time working on a Power Rangers project. During the original Mighty Morphin' Power Rangers TV series, he voiced the monsters Twinman and Snizard in two separate episodes. As Cranston teased in his tweet, his last name was also later given to Billy, the Blue Ranger. 13 years later, he's getting to participate as the alien who bequeaths the Rangers their powers in the big screen retelling. With Power Rangers plot details still relatively scarce, it remains to be seen what Cranston's version of Zordon will be like, though at minimum, hopefully they'll keep him bald (we already know he can pull it off the chrome dome, as seen above) and a floating head. Those can't simply be discarded!
Zordon was originally played by David Fielding in Mighty Morphin' Power Rangers, and while Robert L. Manahan later replaced him as the character's voice, Fielding's face continued to be used on the shows. In the 1995 movie, he was played by Nicholas Bell. In the main Power Rangers mythos, Zordon was a warrior from the planet Eltar who fought Rita Repulsa thousands of years ago. While he was able to trap her in a space dumpster (seriously), Rita was able to retaliate back at him beforehand by banishing him in a time warp. That's why he only ever communicated to the Rangers and allies in that giant tube. Zordon served as the main Power Rangers mentor until Power Rangers Turbo, and he made his final appearance at the end of Power Rangers in Space.
Even without many official details yet, it's safe to say that Bryan Cranston's Zordon will play a similar role in the Power Rangers movie. He and Rita will have battled long ago, and although he was successful in imprisoning her, his physical form was damaged or destroyed. When Rita returns to Earth in the present day, he'll recruit a team of teenagers with attitude to protect humanity from her invasion, giving these five new heroes the ability to materialize armor around themselves, pilot robotic animals/vehicles that can combine into a Megazord and more. Oh, and give them occasional life advice with a booming voice that can't be ignored.
Power Rangers hits theaters on March 24, 2017.
Connoisseur of Marvel, DC, Star Wars, John Wick, MonsterVerse and Doctor Who lore. He's aware he looks like Harry Potter and Clark Kent.
Your Daily Blend of Entertainment News
Thank you for signing up to CinemaBlend. You will receive a verification email shortly.
There was a problem. Please refresh the page and try again.