How Roland Emmerich Plans to Follow Up Independence Day 2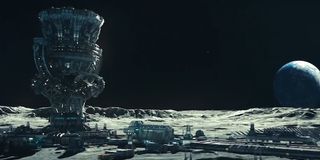 Director Roland Emmerich is no stranger to creating science fiction stories. In addition to movies like Stargate and The Day After Tomorrow, his latest movie, Independence Day: Resurgence, brings him back to the world he created 20 years earlier in Independence Day. The sequel, which features even more aliens and bombastic action, has been out for a couple days internationally, but so far it hasn't a good impression, earning mixed-to-negative reviews and drawing in only $4 million in Thursday night U.S. screenings. Despite the subpar reception, Emmerich is already moving onto another sci-fi movie, titled Moonfall.
It was reported today by Deadline that Moonfall will be distributed by Universal Pictures, with the studio apparently dropping "seven figures" to acquire the spec script. Roland Emmerich wrote the script with Harold Kloser (who he's worked with on seven previous movies) and Extinction scribe Spencer Cohen. As expected, Emmerich will direct the movie, which is aiming for a "fast tracked" release, while Kloser will produce. Described as his 2012 movie meeting Close Encounters Of The Third Kind, Moonfall will follow an "unlikely band of misfits" who must work together to save humanity when the Moon's orbit breaks and it heads on a crash course for Earth. Yep, that sounds about right for an Emmerich sci-fi movie.
Roland Emmerich has directed movies across several genres over decades, from historical pieces like The Patriot to fantasy epics like 10,000 BC, but science fiction has been his bread and butter. Actually, let me clarify: outlandish sci fi is what he loves to feed the audience in his movies. Moonfall definitely sounds like it will follow a similar path as the Independence Day movies, where everyday folks will have to work together to prevent a freak occurrence from killing everyone. This time, it's our Moon that's causing all the pandemonium. No doubt Neil deGrasse Tyson and other scientists will have some choice words about Moonfall's scientific accuracy, but we'll cross that bridge when we come to it.
Looking back on Roland Emmerich's more recent blockbusters, they haven't been critical darlings, but they've drawn in a lot of money. While we can't say for sure if Moonfall will experience the same fate, it's practically guaranteed that like Emmerich's other sci-fi movies, there will be plenty of explosions and property damage across two hours. This, along with the Stargate reboot, gives Emmerich a full slate when it comes to sci-fi material in the near future.
Moonfall hasn't been assigned a release date yet, but we'll keep you updated on its progress as more information trickles through. In the meantime, let us know what you think about Roland Emmerich's next movie in the comments below.
Connoisseur of Marvel, DC, Star Wars, John Wick, MonsterVerse and Doctor Who lore. He's aware he looks like Harry Potter and Clark Kent.