Independence Day: See The Cast Then And Now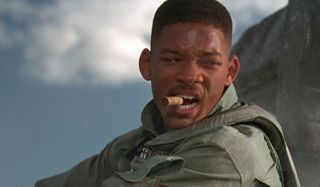 It has been nearly two decades since Independence Day was released on the summer movie public. It was the movie that turned writer/director Roland Emmerich into the big-budget spectacle filmmaker that we know him as today. On the eve of the sequel, Independence Day: Resurgence, it's an appropriate time to take a look back at the people who made up the cast of the original film.
One of the most interesting things about the cast of Independence Day is that, while the movie was chock-full of names and faces that the average movie fan would recognize, there was no "movie star" in the mix. It was very much an ensemble cast where everybody pulled their weight to build the larger story together. This doesn't mean that the movie didn't produce at least one bonafide movie star, though. Let's start there.
Will Smith
In 1996, Will Smith was wrapping up his successful transition from rap musician to TV star as the lead on The Fresh Prince of Bel-Air. He was coming off his first solid movie as the co-lead of Michael Bay's Bad Boys, but nobody was sure that he'd be able to play the hero of Independence Day. As fighter pilot Captain Steven Hiller, Smith lead the defense against the alien invasion. Smith would go on to be one of the biggest stars in Hollywood with hits like the Men in Black series and Oscar-worthy efforts like Ali. While he's not quite the world dominating star he once was, he's still in very high demand. He'll next be seen playing Deadshot in this summer's Suicide Squad.
Bill Pullman
Bill Pullman came to prominence thanks to his comedic work in his early films like Ruthless People and Spaceballs. However, his role as President of the United States Thomas J. Whitmore is probably his most famous role, mostly due to the epic speech he delivers near the finale. Pullman has worked steadily since then, so you've certainly seen him, but he's more likely to play a supporting role in a film or TV series than be the one in the spotlight. He did play the President of the United States again, although this time on television, and as a comedy, for NBC's 1600 Penn. Following Independence Day: Resurgence, Pullman will be seen alongside Woody Harrelson in Rob Reiner's LBJ.
Jeff Goldblum
If Jeff Goldblum characters have a "type," they tend to run toward the overly educated nerd in the summer science fiction movie. He was Seth Brundle in David Cronenberg's remake of The Fly in the 80s before taking on the role of Ian Malcolm in Steven Spielberg's Jurassic Park. Three years later he would take the part of David Levinson in Independence Day. By the 2000s, he was spending more time on TV, including a lead role for one season of Law & Order: Criminal Intent. He's one of the usual suspects working with Wes Anderson these days, and will be making his comic book movie debut as the Grandmaster in next year's Thor: Ragnarok.
Mary McDonnell
Odds are Mary McDonnell probably came to your attention in the early 90s when she scored a pair of Oscar nominations, one in 1991 for Dances with Wolves, and then a second in 1993 for Passion Fish. From there she would go on to play First Lady Marilyn Whitmore in Independence Day. Science fiction politics have been good to her, as today, she's probably best known for her role as President Laura Roslin on Battlestar Galactica. She's found a home on TV as a member of the cast of The Closer and its spin-off Major Crimes.
Judd Hirsch
Judd Hirsch has been acting since the early 1970s and is probably best known for his role as driver Alex Reiger on the comedy series Taxi, or more recently, for his role on the CBS hit series Numbers. In Independence Day, he played Julius Levinson, the role of the father of Jeff Goldblum's character, David. He's been seen in the trailer for Independence Day: Resurgence so we know he'll be back in some capacity. At over 80 years of age, Hirsch is still going strong. He had a regular role on ABC's cancelled Forever a couple years ago, and will be seen again on the big screen this year alongside Jessica Lange and Shirley MacLaine in Wild Oats.
Robert Loggia
With over 200 acting credits on his resume, Robert Loggia was an incredibly prolific actor. Rarely the star, Loggia had roles in some of the biggest television shows and films throughout several decades. So in demand, it was not uncommon for Loggia to make multiple appearances on the same series, as different characters over time. However, it wasn't until the 1980's that Loggia began to receive recognition, with an Oscar nomination in 1985, and a pair of Emmy nominations following that. He also had his most memorable movie scene in that era, as the toy store owner who shares a giant piano with Tom Hanks in Big. In Independence Day, Loggia played the Chairman of the Joint Chiefs under President Whitmore, the man who was in charge of the United States military response to the alien threat. The actor was unable to reprise his role in the sequel, as he passed away at the end of 2015.
Randy Quaid
Russell Casse was the everyman character of Independence Day. He wasn't rich or important. He wasn't that bright either, for that matter. However, he had a family that he loved, that he wanted to protect. As an able-bodied pilot, he joined the final attack against the invasion and eventually sacrificed himself in order to save the planet. Whether or not we'll see the face of Randy Quaid in Independence Day: Resurgence in some sort of memorial is unclear, but unlikely. The actor, well known for roles in the National Lampoon's Vacation series and Kingpin, has been dealing with legal issues stemming from a burglary charge in Santa Barbara, CA from 2010. Until the fall of 2015, Quad and his wife resided in Canada seeking refugee status due to a fear of assassination in Hollywood. This would have made him unavailable to film the sequel.
Vivica A. Fox
While Will Smith won't be returning for Independence Day: Resurgence, his on-screen wife will be. Vivica A. Fox played the role of Jasmine in the original movie, and she will be back to reprise that role. With Will Smith's character being dead, and their son being a young adult, we don't know how much we'll see of her. Following her success in Independence Day, Fox was cast to play the role of Vernita Green in Quentin Tarantino's Kill Bill. Since then, she's done a series of smaller films and TV guest spots, most recently guest starring on Fox's hit series Empire.
Adam Baldwin
Unless you've watched Independence Day recently, you probably didn't even remember that Adam Baldwin was in it, unless you somehow recognized him as the kid from My Bodyguard, all grown up back then. In which case, well done. Most of Baldwin's pre-Independence Day resume is stuff you probably never saw. It wasn't until 2002 that most people would come to know Baldwin as Jayne Cobb in the cult hit Firefly. The fandom for that series outlived its single-season run, and so Baldwin still has a strong following today. He followed up Firefly with a much longer run on NBC's Chuck, and today he plays Mike Slattery on TNT's The Last Ship.
Mae Whitman
Another one from the "Wait, that was her?" file. Today, we know Mae Whitman as Amber Holt, the daughter of Lauren Graham's character from NBC's Parenthood. However, way back in 1996 at the age of eight, Whitman played the role of Patricia Whitmore, the daughter of Bill Pullman's President of the United States. Unfortunately, while the character will be returning for Independence Day: Resurgence, Mae Whitman will not. Instead, the part will be played by Maika Monroe. We don't know why this was done, though we're fairly certain we'd be ticked off if we knew. Whitman has also been seen in Arrested Development, and has an extensive track record in voice acting for animation and video games.
Harvey Fierstein
While Harvey Fierstein has been an actor and performer on screen since the 1980s, he's most well known for his work on the stage, where he's won four Tony Awards. However, you likely remember him as the man who designed the English nanny costume for Robin Williams in Mrs. Doubtfire (the two played brothers in the film) or you may remember his recognizably gravelly voice as the character of Yao, one of the soldiers who befriends Mulan in the Disney film of that name. While you won't see his character in Independence Day: Resurgence, you will see him take on the iconic role of Edna Turnblad in NBC's live performance of Hairspray this December.
Harry Connick Jr.
If there's one actor that we know for sure won't be returning for Independence Day: Resurgence, it's Harry Connick Jr., who didn't survive Act I of the first film. He played Captain Jimmy Wilder, the wingman to Will Smith's Steven Hiller, whose plane is destroyed during the first encounter with an alien fighter. Ironically, Connick may have been one of the more well-known names in the first film, his singing career, including his work on the soundtrack toWhen Harry Met Sally... had made him famous already at that point. Connick has dabbled in acting and has played everything from a serial killer in Copycat to the aquarium owner in the family friendly Dolphin Tale movies. He continues to sing and has also been a judge on American Idol.
Your Daily Blend of Entertainment News
Content Producer/Theme Park Beat
CinemaBlend's resident theme park junkie and amateur Disney historian. Armchair Imagineer. Epcot Stan. Future Club 33 Member.