Suicide Squad Will Be Longer Than We Thought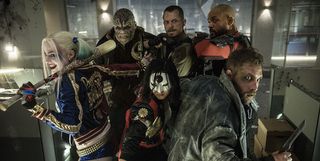 There are different criteria for how long a movie from a specific genre should be, but for superhero movies, it's especially important to find middle ground. If they're too short, moviegoers might feel like they didn't get their money's worth, and if they're too long, people might get bored or fidgety. In Suicide Squad's case, it was rumored last week that the summer blockbuster would only be about 100 minutes long. That seemed very short for one of the DC Extended Universe entries, but now it's being reported that the movie will actually clock in at 130 minutes, including the credits.
The Suicide Squad runtime was posted by Collider, which confirmed the information soon after director David Ayer announced that post-production was completed. As noted in the article, this puts the movie somewhere in the "mid-range" when it comes to DC more lengths. Some, like Green Lantern, didn't reach a full two hours, while others, like Batman v Superman: Dawn of Justice have gone for two and a half hours or longer. Assuming Warner Bros directly confirms that runtime in the coming weeks, Suicide Squad lasts a little over two hours, so that will give folks enough time to get invested in the story and its characters.
Two hours and ten minutes is certainly a long amount of time, but as far as the DCEU goes, it sounds like Suicide Squad made sure not to include a lot of "fat." Granted, aside from Joker, Harley Quinn and Batman, none of the movie's characters are well known to folks who don't read comic books. They'll need to make sure that they spend enough time getting people acquainted with folks like Boomerang, Diablo and Amanda Waller, as for many, this will be their first time seeing these characters in action. Making a good impression is key. On the flip side, they can't spend too much time on exposition or overly long action sequences. Otherwise, things are going to feel bogged down, and when it comes to movies revolving around action, that's not a good thing.
While it remains to be seen how Suicide Squad will fare, both critically and commercially, it sounds like the story will move along as a steady and tight pace. For a movie revolving around a group of super villains who go on dangerous missions for the U.S. government, this runtime seems like just enough to both provide a lot of explosive action and delve into what makes theses characters tick. Still, let's not forget that Batman v Superman: Dawn of Justice is coming out with its R-rated, extended "Ultimate Edition," taking the movie to three hours. There's always the possibility that Suicide Squad might release its own extended cut on home media by Christmas time.
Suicide Squad hits theaters on August 5.
Connoisseur of Marvel, DC, Star Wars, John Wick, MonsterVerse and Doctor Who lore. He's aware he looks like Harry Potter and Clark Kent.
Your Daily Blend of Entertainment News
Thank you for signing up to CinemaBlend. You will receive a verification email shortly.
There was a problem. Please refresh the page and try again.