Why The Shallows 2 Probably Will Need A New Director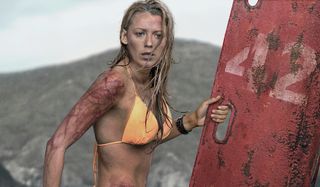 The Shallows has proven to be a partial antidote to a summer slate that's been populated with underwhelming sequels, a glut of which have been ignored by mainstream audiences. The original, simple, taut, nautical thriller horror has been met with positive reviews, which have propelled it to a $16.7 million opening weekend total from just a $17 million budget. One of the main reasons for its success is director Jaume Collet-Serra. But despite _The Shallows' _impressive box office haul, don't expect the Spanish filmmaker to be coerced into making a sequel, because he is adamant that he only works on original films.
Jaume Collet-Sera made this declaration to me last week when I sat down to talk about The Shallows. In recent years, as his Hollywood career has thrived thanks to his Liam Neeson-led action thrillers Unknown, Non-Stop, and Run All Night, he hasn't been lured into working on sequels or franchises. I asked him why not. Jaume Collet-Serra admitted that he has been offered these films but he's always turned them down, explaining:
While it should be noted that Jaume Collet-Serra's first films, following his ascension from directing music videos and commercials, were a remake of House Of Wax and then the sequel Goal II: Living The Dream, since then he is one of the few directors to have made consistently profitable original Hollywood genre films, starting with his 2009 horror Orphan.
Obviously, because of his continued success, various studios have come knocking and asking for him to work within the constraints of a franchise or on a follow-up to a previously successful film. It's to Jaume Collet-Serra's eternal credit that he has repeatedly rebuffed these advances, and instead continued in his pursuit to make original films, which he can mold into his singular vision and then release upon the world.
While 2015's Run All Night was his least profitable film of the last few years -- taking in just $10 million more than its reported budget -- _The Shallows' _impressive opening weekend haul means that it will immediately right this wrong, and it's already on its way to a huge haul considering its small budget. Obviously, this means that Jaume Collet-Serra will, once again, soon be inundated with offers from studios to oversee a variety of projects. But with originality in scant supply in Hollywood, let's cross our fingers and toes that his integrity remains intact and he steers away from franchises and sequels. Because lord knows that mainstream cinema is craving more originality, just like he is repeatedly delivering.
Your Daily Blend of Entertainment News
Thank you for signing up to CinemaBlend. You will receive a verification email shortly.
There was a problem. Please refresh the page and try again.