This Rotten Week: Predicting Mike And Dave Need Wedding Dates And Secret Life Of Pets Reviews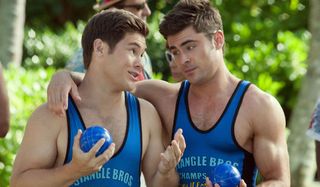 Both May and June have officially come to an end, but yet another big summer month is ahead of us in July. We have a smaller slate of flicks this time around with a couple of hard-partying bros who've met their match and what your pets do behind your back. We've got Mike and Dave Need Wedding Dates and The Secret Life of Pets.
Let's Just remember, I'm not reviewing these movies, but rather predicting where they'll end up on the Tomatometer. Let's take a look at This Rotten Week has to offer.
Though it comes off at first as looking dangerously close to Wedding Crashers, Mike and Dave Need Wedding Dates does appear to have a theme of its own going for it. Namely, two hard-partying brothers, played by Zac Efron and Adam Devine, being shown up by two even harder-partying females. The theme of ever-increasing hijinks and shenanigans is a popular one for comedies as writers often think the laughs come from making shit crazier and crazier as the movie goes on. This can work, but does tend to go off the rails as well. I think this one works for the most part, but there are some concerns.
Zac Efron's actually been down this R-rated comedic road a couple of times. In Neighbors (73%), it works mostly because the laughs are fast and furious. But Dirty Grandpa (11%) missed considerably. The movies (and this one) are dissimilar in how they go about achieving their chuckles but illustrate the thin line between "LOL" and "Ugh". This film, I think, trends toward the positive. The trailer had plenty of laughs and director Jake Szymanski helmed the hilarious Andy Samberg tennis mockumentary 7 Days in Hell. It was ridiculous through and through, something Mike and Dave Need Wedding Dates appears to be as well.
In The Secret Life of Pets, the latest movie from Minions creators Illumination Entertainment, we get a look into the world inhabited by pets when their owners leave the house. At first glance the premise is cute enough with plenty of opportunities for off-the-wall laughs and ridiculous goings-on behind the pet scene. I got a chuckle here and there for sure, even though I'm not really a pet dude.
The studio's had big financial success and above average critical praise with Despicable Me (1 and 2, 81% and 73%) Minions (55%) and The Lorax (54%). Chris Renaud directed all of them and he's back again here. Early reviews for The Secret Life of Pets are largely positive, with the film sitting at 83% and 30 reviews posted. I suspect it stays at that level.
I made three predictions last week and the three numbers 28%, 68% and 73% were very close to the actual scores of 35%, 54% and 71%. The problem was I flip-flopped the movies, so it turned out to be a disaster.
For starters, The Purge: Election Year (Predicted: 28% Actual: 54%) wildly outperformed the previous two films in the franchise. That's a rare thing for a third in a run to get markedly better (in the eyes of the critics), and it's super tough to see something like this coming. It's unclear if critics went in with a slightly different eye for the franchise, or if this one was simply a better film. I suspect the truth is somewhere in between. Whatever the reason, I blew this one bad.
Similarly, Legend of Tarzan (Predicted: 73% Actual: 35%) represented another wild swing and miss. I thought the visuals, cast and overall story line would carry the day here. Nope. Critics are crushing it with words like "silly", "muddled" and "dull". Not good for a flick looking to take itself pretty seriously which might have been the problem from the start. This is Tarzan after all and making a live action flick about a dude swinging on vines in the jungle has a lot of ways to go wrong. It looks like it did.
And finally, The BFG (Predicted: 68% Actual: 71%) was a win, though, I can't take full credit because a bunch of reviews were already in at time of post. It's funny when a 71% represents one of the lower scores for a director's career, but this is Spielberg we're talking about. The dude is a legend and this will end up being just another film for the guy. What a career.
Next time around we've got Ghostbusters and The Infiltrator. It's gonna be a Rotten Week!
Your Daily Blend of Entertainment News
Doug began writing for CinemaBlend back when Terminator: The Sarah Connor Chronicles actually existed. Since then he's been writing This Rotten Week, predicting RottenTomatoes scores for movies you don't even remember for the better part of a decade. He can be found re-watching The Office for the infinity time.