10 Exciting Family Movies Coming Out Soon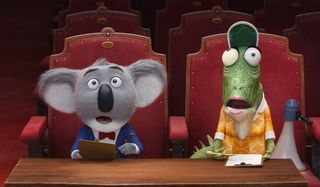 With Finding Dory and The Secret Life of Pets setting the box office on fire, it looks like families are more ravenous than usual in their quest for entertainment they can enjoy together at the movies. And as luck would have it, there's more excellent, if not interesting, looking content coming down the road for the rest of 2016! Some of these films are easy to spot, while others are threatening to get lost in the shuffle of films like Star Trek Beyond and other big blockbusters who dominate their release windows.
But we here at Cinema Blend love to help, and for you families looking to take the kids to something special between now and the end of the year, we decided to put together this list. One note before we get started, Fantastic Beasts and Where To Find Them is the only film on this list we presume will be PG-13. Other than that, we're anticipating the rest of the field will be square in G - PG rated territory. With that out of the way, settle the kids in front of the computer with you, and start planning the rest of your box office year!
Ice Age: Collision Course
Release Date: 7/22
In its fifth feature film, Ice Age: Collision Course, the Fox franchise is looking to throw together the following elements: a wedding, a meteor strike, and the screwball antics of Scrat. With Manny and Ellie seeing their little girl Peaches become a woman in her own right, the pressure is on to not only survive the blessed union, but to evade the impending apocalypse that is bearing down on them and all them love. We'd be lying if we didn't say that the big reason we're looking forward to this one is because, once again, we'll get to see Scrat setting off a chain of events that spur on the events of natural, and un-natural, history.
Pete's Dragon
Release Date: 8/12
It's not easy to reboot a classic. And yet, the family juggernaut we know as Disney has been making its job to perfect and refine such a prospect, and has been doing a hell of a job of doing so in the past couple of years. Pete's Dragon is their latest effort in that respect, and between the all-star cast, some promising newcomers, and a 1980's style throwback that makes the film look like a lost Amblin picture, this high flying thrill ride looks like it'll please the kids, as well as milk some well earned tears from the adults.
Kubo and the Two Strings
Release Date: 8/19
Anytime Laika releases a film, it's like a little gift-wrapped box on our doorstep. Though when we open the box, the gift inside exceeds the boundaries of the package we were promised, and Kubo and the Two Strings looks to be continuing that tradition in spades. With hypnotic action and a gigantic, anime inspired heart on its sleeve, the film looks to be both visually lush and thematically rich. Also, it's got Matthew McConaughey and Charlize Theron in supporting vocal roles, so hearing those two work their magic always has us excited.
The Wild Life
Release Date: 9/9
We're going to admit something pretty big here: not all animated films are rich in story. Yes, we know it's a hard thing to admit, but sometimes those cartoon characters on the screen are up there to do one thing, and one thing alone: entertain you. The Wild Life looks like it's taking this strategy to heart, as pratfall after sight gag after wild chase litters the coming attractions that promise its imminent release. So if you're looking for a fun afternoon at the movies with your kids, The Wild Life is waiting to take you to paradise.
Storks
Release Date: 9/23
Much like the movie market at large, the family film portion of the industry seems to be choked with franchises, reboots, and adaptations - with very little room left for the originals. Storks doesn't care if there's room for its original story of an age old fairy tale being redefined in a modern context. It's making room for itself, and it's doing so with some pretty impressive results by the looks of the trailers available. Warner Bros looks to be making itself into an animation powerhouse yet again, challenging Pixar and Dreamworks with laughs, heart, and Andy Samberg riffing off of Kelsey Grammar. Consider us sold.
Middle School: Worst Years Of My Life
Release Date: 10/7
For years, James Patterson has written best-selling novels that adults have eaten like individually wrapped pieces of literary confection. But what most people may not know is, he's also a pretty prolific YA writer as well. So while Detective Alex Cross isn't on our movie screens for the moment, now seems as good of a time as any to break out one of Patterson's more kid friendly franchises, via the film adaptation of Middle School: Worst Years of My Life. Not only does this look like an excellent choice for the ever so slim tween demographic, but the film looks like it actually crosses the parent - child humor bridge rather effectively. Why else would they hire Rob Riggle and Andy Daly?
Trolls
Release Date: 11/4
If your kids are singing the new Justin Timberlake single at full volume, relax: it's all leading up to something. That something is Dreamworks Animation's next potential hit, Trolls, which tells the story of a grumpy troll (JT himself) and the ruler of the trolls, who happens to be the most upbeat troll in the world (Anna Kendrick). As they team up to face down those that would hunt and eat them, they both discover a little more balance, and a whole lot of music. Yes, it sounds like The Smurfs all over again. However, Trolls not only looks like its a more enjoyable film, it will at the very least have a soundtrack you won't mind listening to for an hour and a half.
Fantastic Beasts and Where To Find Them
Release Date: 11/18
Ranking in as our most "mature" themed entry, Fantastic Beasts and Where To Find Them looks to pick up where the Harry Potter franchise left off. While this option isn't a complete sell for the youngest demographic in your household, 'tweens and teenagers should rejoice, as there's a quality film on this list that looks like it'll entertain them soundly. Oh, and we won't tell them that you're just as amped to see magic return to the big screen, as you're more than likely looking forward to Newt Scamander's adventures of witchcraft and wizardry as well. Suffice it to say that November will be a rather magical month this year.
Moana
Release Date: 11/23
Speaking of music, you probably know that Hamilton's Lin-Manuel Miranda is helping craft the music for Disney's latest feature film, Moana. Now far be it from us to say that this is the biggest draw to the project thus far, as the film marks the first Polynesian princess in the Disney canon, Dwayne "The Rock" Johnson sounds terrific as demi-god Maui, and that spotted pig in the teaser is absolutely adorable. That being said, we're extremely curious to hear more of the sweet sounds that Miranda's pen has helped craft for that first look trailer, as the small taste we've gotten has us ready to buy tickets today.
Sing
Release Date: 12/21
As much as Sing is telling a story about underdogs looking for a shot at the big time, the movie itself seems equally poised to be an underdog itself. With Assassin's Creed opening on the same day, and tons of other big ticket family pictures coming and going before then, the all-star musical seems like it may have a hard time at the box office. However, if Sing takes after its sibling, the wildly popular The Secret Life of Pets, then there just may be a shot at redemption for this animal driven songfest yet. That, and any film that decides a koala could use the voice of Matthew McConaughey is a film we'll at the very least watch another trailer for.
Senior Movies Contributor
CinemaBlend's James Bond (expert). Also versed in Large Scale Aggressors, time travel, and Guillermo del Toro. He fights for The User.