Pete's Dragon: What We Know So Far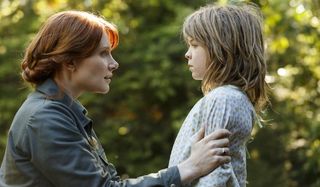 Children's films are always a big sell. Parents need something to keep the kids busy that won't step outside the lines of decency for children of all ages. And, there's no better way to try to get parents and their progeny into the theater than to tempt them with a property that already has some name recognition. Come August, Pete's Dragon will be that property.
While Pete's Dragon isn't the best known of the Disney films, the 1977 movie, which was a combination of live action and animation, has a bit of a cult following. Many of today's parents have probably seen the film, or at least heard of it, and they'll jump at the chance to show this new version to their kids.
So, if you're already looking forward to the day you can take your little ones to see Pete's Dragon, check out our handy guide that tells you everything you need to know about the film.
The Rating
Pete's Dragon won't be difficult for any child to see. The kid-friendly film will be rated PG, so it's perfect for families to see together. My guess is that the "parental guidance" will likely come, at least, from the fact that a boy is running around the woods by himself. But, we can get to that little tidbit later.
The Release Date
Instead of aiming for a bigger, height-of-summer release, Pete's Dragon won't hit theaters until August 12 of this year. The film's main competition will be blockbuster bait Suicide Squad, which releases on August 5. Obviously, the two films will target two slightly different audiences, and, even though Suicide Squad will be a darker film, it won't be too dark. The filmmakers still want as many tweens and teens to see the film as possible, so the DC comic adaptation is rated PG-13. So, while it's is likely that the audiences could overlap quite a bit, Pete's Dragon will still be the main choice for folks who want to keep younger, more impressionable kids entertained in August. More adults will surely be likely to flock to the theaters on their own for Suicide Squad, but we can't underestimate the power of family movie-going habits that might make Pete's Dragon a blockbuster hit in its own right.
What Is Pete's Dragon About
Based on an unpublished short story by writer Seton I. Miller and S.S. Field, the rights to the story for Pete's Dragon were bought by Disney in the 1950s. The original film told the story of a young orphan in the early 1900s, Pete, who runs away from his abusive adoptive family and lands in a small fishing town in eastern Maine. He soon meets an invisible force, whom he calls Elliott, which reveals itself to him as a dragon capable of becoming invisible. The unseen dragon causes trouble around town, which people begin to attribute to Pete, since he's a newcomer to the area.
That first film blended animation and live action, much like the new on will, by having an animated dragon to interact with Pete and any townspeople Elliott might come across and show himself to. The 1977 version of the film as also a musical, but the new production has decided to forgo that aspect of the storytelling.
The remake of Pete's Dragon will still focus on an orphan and his (often) invisible dragon friend Elliott, but this time the story takes place in a logging community in the early 1980s. When Pete (Oakes Fegley) is discovered by a park ranger, Grace (Bryce Dallas Howard), filthy and in tatters roaming around the woods by himself, he tells her that he's been living with a giant dragon in those same woods for six years. The story of the dragon sounds an awful lot like the one her dad, Mr. Meacham (Robert Redford) has regaled local children with for decades. With the help of her dad and 11-year-old Natalie (Oona Laurence), Grace becomes determined to find out who Pete is, who he belongs to and the truth about his supposed dragon protector.
Pete
Pete is a young boy who's clearly had a rough time of it. While the first film had him escape a family of mean yokels who try to track him down, this movie simply meets him six years into a life of forest living with Elliott. Right now, we have no idea about Pete's history, but that's a good place to start for the mystery of the film. Was Pete abandoned six years ago, or did he run away to save himself from a terrible life with adults who couldn't care for him? Either way, his time with Elliott has left him a bit wild, but alive and, no doubt, very resourceful for a child of his young age. We can see before long if all our questions about Pete and his life before being found will be answered.
Pete is played by Oakes Fegley. The young actor got his start in a 2011 short film called Glass and has been adding to his resume ever since. He's appeared in This Is Where I Leave You, Boardwalk Empire and Person of Interest among his relatively few credits.
Elliott
We know who man's best friend is, and in this case we know that wild woodland boy's best friend is a giant dragon. In the first film adaptation of the story, Elliott was a pink and green dragon who was slightly taller than your average professional basketball player. Our new Pete's Dragon, though, will feature a CGI creature much more like the ones we know from popular fantasy tales like Game of Thrones (although I doubt Elliott will be anywhere near as scary). The relative scale of Pete and Elliott was revealed when Disney released the first poster for the film. It's safe to say that most pro NBA stars would be easily dwarfed by this iteration of Elliott.
The first movie also had Elliott talk. There's no actor listed as the voice of Elliott on the film's IMDB page, but that could just be so that the talking dragon is more of a surprise for the audience, especially if they aren't well acquainted with the first film. It's also possible that if Elliott doesn't talk, we'll still be able to read his responses to Pete and the situations they find themselves in by his expressions, something like Toothless in How to Train Your Dragon.
Natalie
Natalie is a young girl who will help Grace and Mr. Meacham on their quest to find out more about Pete and his friend Elliott. The group will likely find themselves seeing things they never thought they would, and experience all the kinds of wonders that children's films like Pete's Dragon are famous for.
Natalie is portrayed by Oona Laurence, and the girl's list of credits is currently a bit longer than that of Oakes Fegley. She got her first credit in the TV series documentary Celebrity Ghost Stories, where she played a young Phyllis Diller, as well as the comedian's daughter. She's gone on to have roles in Louie, Law & Order: SVU, Orange Is the New Black and, most notably, the 2015 film Southpaw.
Mr. Meacham
Children's films such as Pete's Dragon usually offer two roles to adults: the grown up who thinks a child's stories are simply fanciful tales, and the ones who suspect early on that the kid (or kids) is telling the truth. Mr. Meacham is the film's believing adult. Meacham, a wood carver who is also Grace's father, has spent decades delighting children with his stories of a fierce dragon who lives deep in the woods of the Pacific Northwest. It's not unlikely that Meacham tells the stories because he has first-hand knowledge of Elliott from when he was a boy, but we currently don't have any idea how the man began telling his tales of the woodland dragon. That, though, will almost certainly be revealed in the movie.
Mr. Meacham is played by none other than legendary actor, producer and director Robert Redford. He got his start in TV and movies with an appearance on the show Maverick in 1960, and has gone on to become one of our most celebrated actors. To list everything he's known for, well, it would be silly, but some of his greatest hits include Butch Cassidy and the Sundance Kid, The Candidate, The Sting, All the President's Men, The Natural, Out of Africa, Sneakers and Indecent Proposal. His recent projects have included All Is Lost, Captain America: The Winter Soldier and A Walk in the Woods.
Grace
After meeting Pete in the woods during her rounds as a park ranger and hearing his story, Grace leads the charge to help the boy, find out who he is and get him back to his family, if he even has one. She's also skeptical of his tales of Elliott, and, because she's spent years hearing her father tell the story of a giant dragon, wants to finally find out if those stories or true or not. Grace is going to need some major convincing, but when you're a giant dragon who decides to show yourself to an adult, you probably have the advantage there.
Grace is played by Bryce Dallas Howard, who has racked up quite the list of credits since her uncredited appearance in Apollo 13 in 1995. She made her major film debut in Spider-Man 3 as Gwen Stacy, and more recently has had notable parts in Terminator Salvation, The Twilight Saga: Eclipse, The Help, 50/50 and last summer's mega, super blockbuster Jurassic World.
Jack
The only thing that's known right now about Jack is that he's Natalie's dad, and he owns the local lumber mill. Considering that Grace will get wrapped up in finding the family of a literal wild child and whether or not he knows a giant dragon, I can bet Jack will be more involved in the adventures than he'd probably want to be. I can also imagine that, like most adults would be, he'll be doubtful of Pete's story. Since he's likely from the town where the film takes place, I wouldn't be surprised if he heard Mr. Meacham's tales of the dragon and has grown up to believe it just a fanciful story for children. Well, he's going to be shocked.
Jack is being portrayed by Wes Bentley. After a star-making turn in American Beauty in 1999, he continued with parts in The Four Feathers, Ghost Rider and Jonah Hex. His more recent parts have included roles in The Hunger Games, Lovelace, Interstellar, Knight of Cups, and work on recent seasons of American Horror Story.
Gavin
The character we know the least about is Gavin. We know so little, in fact that all we know about the character's part in the film is his name. But, the first Pete's Dragon movie actually had a villain, Dr. Terminus, who was a medicine showman who offered Pete money for Elliott so that he could use his body parts (seriously) in his medicinal "cures" for the locals. If there is a villain in the new film, Gavin could easily be him. But, how will he be villainous? Will he want to use Elliott for parts? Turn him into a traveling 'freak' show? Or, will his part be something more down to Earth, like trying to take over or close the local lumber mill that's owned by Jack? We only have a few months left before we can find out.
In the film, Gavin is played by Karl Urban. The actor is known for his kickass (and sometimes villainous) roles in fantasy, science fiction and action films like The Lord of the Rings: The Two Towers and The Lord of the Rings: The Return of the King, The Bourne Supremacy, the new series of Star Trek films and the underrated Dredd. He also led the short-lived FOX sci-fi show Almost Human.
Pete's Dragon is shaping up to be a wonderful, magic-filled film that will be fun for all ages, and we all know that there's nothing better than a children's movie that adults can enjoy, too. It looks like the film will be capable of giving all who see it the kinds of chills and thrills that go along with watching a movie that inspires and awes. We can all see for ourselves when Pete's Dragon hits theaters on August 12, 2016.
Yennefer's apprentice, Gilmore Girl; will Vulcan nerve pinch pretty much anyone if prompted with cheese...Yes, even Jamie Fraser.
Your Daily Blend of Entertainment News
Thank you for signing up to CinemaBlend. You will receive a verification email shortly.
There was a problem. Please refresh the page and try again.