Watch An Actual Aquaman Trident Get Made In Awesome Video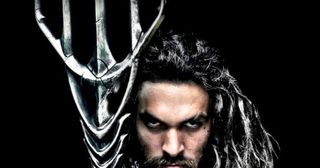 There are a handful of images that instantly bring the iconic DC hero Aquaman to mind. There's the scaly, orange outfit, and the undersea world of Atlantis, but perhaps the most instantly recognizable aspect of his entire mythos comes in the form of his beloved trident. A deadly and iconic weapon, Aquaman's trident has a special place in the world of fiction. That being said, what if it didn't have to simply exist in the comics. A new video has just hit the web showing how to forge one of the hero's iconic weapons, and it's truly a fascinating process. Check it out below.
In their quest to forge the perfect real life version of Aquaman's infamous trident, the folks at Man at Arms have seemingly pulled out all the stops to get the artifact just right. The above video shows how they start with the basic raw materials for a weapon of this caliber and create something that looks ripped straight from the pages of DC Comics. Through a combination of old-fashioned and newer, more advanced techniques, the blacksmiths slowly but surely assemble the metallic pieces and weld them into place using heat and hammer.
Once they finish the weapon properly, they test it out on a variety of inanimate objects, which instantly makes us realize just how deadly the trident truly is in combat. If there's one thing that you should take away from the above video, it's simply the amount of work and care that goes into creating something like Aquaman's trident. Regardless of your stance on any type of weapons, the guys at Man at Arms clearly have a great reverence for this sort of work, and that's definitely worth respecting.
The iconic trident used by Arthur Curry a.k.a Aquaman is one of those things that we cannot wait to see on the silver screen. Although we got a brief glimpse of it during Jason Momoa's equally brief cameo in Batman V Superman: Dawn of Justice, it will likely take on a much bigger role when the character receives a proper introduction during the events of next year's Justice League film. Like the Batmobile, or Wonder Woman's sword and shield, or even Green Lantern's Power Ring, the trident has become an instantly recognizable relic of the DC lore that has captured the imagination of millions.
If you haven't checked out the above video yet, do yourself a serious favor and watch the whole thing. Although Aquaman has often found himself the butt of numerous jokes over the years, it's likely that he wouldn't take quite as much crap if he started waving around a finely crafted trident just a little bit more. We will get our next good look at Aquaman's silver screen trident when Zack Snyder's Justice League finally hits theaters on November 17 of next year. Stay tuned for more details!
Originally from Connecticut, Conner grew up in San Diego and graduated from Chapman University in 2014. He now lives in Los Angeles working in and around the entertainment industry and can mostly be found binging horror movies and chugging coffee.
Your Daily Blend of Entertainment News
Thank you for signing up to CinemaBlend. You will receive a verification email shortly.
There was a problem. Please refresh the page and try again.