How Jason Momoa Feels About All The Aquaman Jokes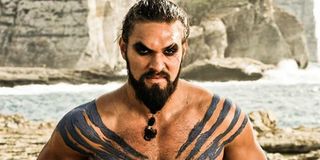 Aquaman has become something of a punchline in recent years, with many people referring to him as a pointless or useless member of the Justice League. This reputation has always seemed a bit unearned as he has yet to be properly adapted to the silver screen – unless you count his portrayal by Vinnie Chase. With Jason Momoa set to finally bring the King of Atlantis to the DC Extended Universe in Batman V Superman: Dawn of Justice, he has some words for the would-be Aquaman dissenters.
Appearing a panel at Fan Expo in Canada, when asked about the constant "fish jokes," the actor had some suitably proud words about his portrayal of the water-based superhero,
Based off of that, it seems that Momoa feels fairly confident that his portrayal of the character will generally change many people's perceptions of Aquaman. He doesn't seem bothered by the jokes, conceivably because of his belief in Zack Syder's vision, and his own ability to do the character justice -- pun absolutely intended. Earlier in the interview, when asked if any of his past characters will influence his take on Aquaman, Momoa responded that there will likely be certain elements from his past roles exhibited in his take on Aquaman – but he always likes to bring a certain complexity to each of his roles. From this we can likely assume that Momoa will bring a familiar intensity to Aquaman (Khal Drogo, anyone?) but his performance will be far from one-note.
Aquaman has been the butt of numerous jokes over the years. In particular, many comedians and TV shows (especially Family Guy) have found an inherent uselessness in his water-based abilities. The character was previously portrayed by actor Alan Ritchson on Smallville, and later by Justin Hartley in a failed attempt at an Aquaman pilot. However, it should be noted that even characters like Batman and Captain America have not always possessed the current level of esteem that they enjoy among moviegoers. And as such a proper depiction of Aquaman on screen could revolutionize the way we envision that specific character. Even Iron Man was considered B-list until 2008.
On paper, Aquaman actually has some of the most interesting abilities of any DC superhero – as well as one of the better backstories. Arthur Curry, as he is known on land, is the rightful heir to the throne as king of the mythical undersea city of Atlantis. In terms of powers, Curry has strength and durability that allow him to rival Superman, as well as the aforementioned ability to communicate with sea life, and use the oceans of the world as offensive and defensive weapons. As a prideful and powerful king who balances a life between worlds, many of Aquaman's characterstics have already been proving to work at the box office by Marvel's Thor.
While it's not much to go off, Momoa's comment should at least inspire some confidence among long time Aqauaman fans. We will finally get to see what he does with the character when Zack Snyder's Batman V Superman: Dawn of Justice, hits theaters on March 25, 2016. Aquaman will then go on to appear in Suicide Squad, Justice League Part One, Aquaman (directed by James Wan), and Justice League Part Two between 2016 and 2019.
Your Daily Blend of Entertainment News
Originally from Connecticut, Conner grew up in San Diego and graduated from Chapman University in 2014. He now lives in Los Angeles working in and around the entertainment industry and can mostly be found binging horror movies and chugging coffee.