George Takei Clarifies Statement About Gay Sulu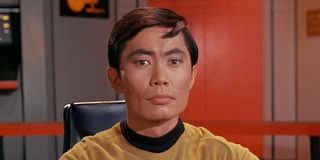 Trekkies have always been a divided group. Whether it's a disagreement over Kirk vs. Picard, or the simple debate of which Star Trek film is best (hint: it's Wrath of Khan), Trekkies represent a fandom that loves to debate. One such debate reared its head recently when it was revealed that John Cho's incarnation of Sulu in Star Trek Beyond had been made gay by the filmmakers, causing original Sulu actor George Takei to voice his disapproval of the change. It now seems that Takei's opinion on the gay Sulu issue has become somewhat taken out of context, and the Star Trek icon recently took to social media to clarify his stance. Check out his lengthy Facebook post below.
The legendary actor and LGBT activist took to Facebook in order to properly inform people as to his opinion regarding the changes made to the character of Sulu. George Takei stands by his belief that Gene Roddenberry originally envisioned this particular character as heterosexual, but he seems to have softened somewhat in the sense that he applauds Simon Pegg for taking this route with his former role. However, he believes that a gay Star Trek character should have been created for Star Trek Beyond, rather than adding this new element to an existing icon from the classic series.
Although George Takei stands by his opinion, he also gives a bit more context to his thoughts. He goes on to explain that he and Gene Roddenberry used to regularly discuss the idea of adding LGBT characters to the Star Trek mythos, but ultimately they agreed to keep the characters straight because the 1960s was a time when numerous social taboos like race, gender, and sexuality had not been addressed. In his eyes the decision to make Sulu gay feels more like an homage to the actor, and not the character itself, which doesn't sit entirely right with him.
Of course, given what we know about the new Star Trek continuity, there's still a fairly easy way to write this whole thing off. Considering the changes made to the Star Trek timeline in 2009 when J.J. Abrams rebooted the series, these characters technically are not the exact same ones from the original 1960s Star Trek series. The original series and these rebooted films take place in separate timelines, and as such one could simply argue that Takei's Sulu is heterosexual, but John Cho's is gay. That's how nerd logic works, people.
Regardless of your stance on the Sulu issue, there's no denying that both sides have presented some compelling arguments. We will have to wait and see how the character evolves when Star Trek Beyond hits theaters on July 22.
Originally from Connecticut, Conner grew up in San Diego and graduated from Chapman University in 2014. He now lives in Los Angeles working in and around the entertainment industry and can mostly be found binging horror movies and chugging coffee.
Your Daily Blend of Entertainment News
Thank you for signing up to CinemaBlend. You will receive a verification email shortly.
There was a problem. Please refresh the page and try again.