The Star Wars Virtual Reality Experience Is The Coolest Thing I Saw At Celebration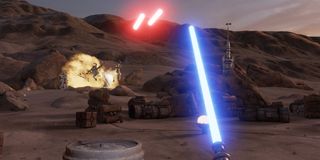 At Star Wars Celebration, an annual gathering of Force-friendly fans, the big announcements usually come from the main stage. That's where we learned that Darth Vader was going to be part of Rogue One: A Star Wars Story, that Star Wars Rebels was going to make EU villain Grand Admiral Thrawn a part of canon now, and where we expect to gain new insight into Rian Johnson's Episode VIII. But sometimes, you have to go off the beaten path to discover the coolest stuff at a major event like Celebration, which is how I happily discovered Trials on Tatoonie -- easily the coolest thing I saw in my entire time at Star Wars Celebration.
Trials on Tatooine is being described as a Cinematic Virtual Reality Experiment, and I can tell you, the experiment is a HUGE success. The mind-blowing interaction has been created by Industrial Light & Magic's xLab, and it uses VR technology to place you into a scene in the Star Wars universe.
Here's what happens. When you are playing the VR game -- which is more like an interactive movie than a traditional game, but you get the idea -- you are standing on Tatooine as the Millennium Falcon arrives. The massive ship lands right on top of you (seriously, you will duck your head in the exhibit, even though there is no ship, and there is no Tatooine). Han Solo has a few tasks for you to complete with a handheld remote control that shows up in the VR. But when Stormtroopers appear, R2-D2 hands you a lightsaber, and it's time to deflect some blasters.
You get a sense of it in this short video.
But even that doesn't do it justice, because that makes it looks like a scene from Star Wars: Battlefront (itself a good game, but nothing like this). As the Millennium Falcon lands, you can look in any direction and take in the desert landscape of Tatooine. When R2 needs your help, you begin to tinker on the Falcon, like a mechanic. And when the Stormtroopers arrive and begin firing at you, I'm telling you, you take the traditional stance of a Jedi and you begin deflecting their lasers back at them ... even though you know, if your head, you aren't holding a lightsaber, no one is firing at you, and you aren't on a distant planet in a galaxy far, far away.
The VR experience uses HTC Vive, a headset and goggles that cover your eyes and are paired with headphones to totally immerse the viewer. And this is just the beginning. After I played with the tech, it was revealed that screenwriter David S. Goyer would be collaborating with ILMxLAB on an original VR experience featuring Darth Vader. If it's anything like Trials on Tatooine, I'm seriously contemplating dropping the coin that's required to own the HTC Vive set.
Want to experience this for yourself? Trials on Tatooine will be made available for FREE starting on July 18 for anyone with an HTC Vive VR headset. It sounds like the Vader experience won't arrive for a few more years, but if this is the future of Star Wars storytelling, I'm telling you, it's incredible, and something you WILL want to be a part of, in a major way.
Movie junkie. Infatuated with comic-book films. ReelBlend cohost. Resident dad. Extroverted introvert. Wants to see the Snyder Cut. Managing Director at CinemaBlend.