Adam Sandler Is Making A Movie Set In The 90s, Which Means It Should Be Great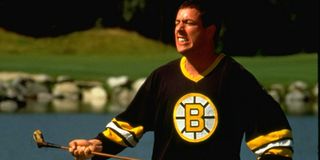 Adam Sandler's recent output means that he's become a bit of punchline for jokes about movie quality. It's easy to forget that at the start of his movie career, the comedian was responsible for some genuinely hilarious output throughout the 1990s. So the fact that Adam Sandler's latest comedy with Netflix, Sandy Wexler, is set during this same period basically means that it's going to be great, right? Right!?
Netflix have released a press announcement confirming that Adam Sandler's third feature film with the streaming service will pair him opposite Jennifer Hudson in the romantic comedy. As you probably expected, Adam Sandler takes the titular role of Sandy Wexler in the rom-com, a talent manager from Los Angeles in the 1990s that has a posse of eccentric clients on his roster, none of whom are anywhere near reaching success and fame in show business. Nevertheless, Sandy Wexler is 100% devoted to every single one of them, something that's put to the test when he falls in love with his latest client, Courtney Clarke (Jennifer Hudson), a hugely talented singer that he randomly discovers at an amusement park.
There are actually a few reasons why Sandy Wexler could be an improvement upon Adam Sandler's recent output. Sure, the link to his classic 1990s films such as Happy Gilmore, Billy Madison, The Wedding Singer, The Waterboy and Big Daddy is tenuous, but there's still an outside chance that this could inspire a creative renaissance.
Plus, the plot sounds simple enough to get the best out of a wise-cracking Sandler, while as an Oscar and Grammy winning singer and actress, Jennifer Hudson seems like the perfect casting for it. Sandler's work with Netflix hasn't been as atrocious as some of his previous cinematic misadventures, too. Both The Do-Over and The Ridiculous 6 had their moments -- especially in the latter when John Tuturro made a cameo as Abner Doubleday - even if they did ultimately dissolve into a mess.
Of course it's more than likely that Sandy Wexler will prove to be a disappointment. It's just what we've all become accustomed to, but we can at least hold out some hope before the debut of its trailer proves just how underwhelming it is. Adam Sandler has long proven that he likes to keep his pals close, which is why he's once again working with director Steve Brill (The Do-Over, Little Nicky, Mr Deeds), while Sandler also co-wrote Sandy Wexler alongside Paul Sado and Dan Bulla, too. Happy Madison Productions' Adam Sandler and Allen Covert are producing, with Barry Bernardi and Tim Herlihy working as executive producers.
Production on Sandy Wexler is due to begin in Los Angeles on August 2, while Netflix (opens in new tab) have confirmed that it will be released across all of their territories at some point in 2017.
Your Daily Blend of Entertainment News
Thank you for signing up to CinemaBlend. You will receive a verification email shortly.
There was a problem. Please refresh the page and try again.