Adam Sandler Responds To Ridiculous Six Racism Controversy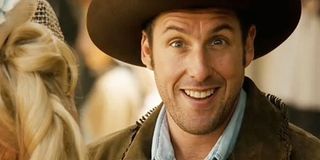 A few months back, Adam Sandler's project, The Ridiculous Six flooded entertainment news for all the wrong reasons. The film, a Western comedy and the first of four Netflix originals that Sandler is contracted to make, proved so offensive to a dozen Native American actors on board that they ended up walking off of the New Mexico set. Spokespersons for the Native American community found the jokes and script to be grossly offensive while Netflix stuck up for Sandler's humor. Everyone had something to say about the matter. Everyone, except Adam Sandler. Well know the actor/filmmaker/comedian is finally putting his two cents in on the matter, and it's exactly what you'd expect.
While attending the world premiere for his new film Pixels, The Associated Press prompted Sandler on the red carpet about The Ridiculous Six controversy, to which he replied, it was a big misunderstanding. Another publication Screen Crush got him to expand:
Sandler also made note that the film is 100 percent pro-American Indian. But earlier this year when the group of Native Americans walked off set, that sure wasn't what they saw going on. They complained that the film was completely offensive to their cultures. And when a report from Defamer dove into a leaked draft of The Ridiculous Six script, they found what the actors were referencing. The names of the characters were outrageous. One woman was originally named Sits-On-Face (later changed to No Bra) and is shown squatting to urinate behind a teepee while stereotypically lighting up a peace pipe. At one point Will Forte's character propositions the woman by asking her, "How about after this, we go someplace and I put my peepee in your teepee?"
Needless to say to Native American cast members were not pleased. They even claimed that the make-up made them look like an entirely different tribe than the one they were casted in. Offending people is not a new trait for Adam Sandler. He certainly likes to push buttons with his humor. But this particular Western spoof had problems long before Netflix even picked it up. About nine months ago Warner Bros. abruptly bailed on the project, and it is believed it was because it was just too scandalous. But leave it to Sandler to still wrangle together a stellar (yet completely random) cast which includes Nick Nolte, Jon Lovitz, Whitney Cummings, Will Forte, Danny Trejo, Luke Wilson, Rob Schneider, Taylor Lautner, and Steve Buscemi. The Ridiculous Six is set for a worldwide premiere on December 11 on Netflix.
Your Daily Blend of Entertainment News
Thank you for signing up to CinemaBlend. You will receive a verification email shortly.
There was a problem. Please refresh the page and try again.