The Hilarious Drug Perk John Cho Still Gets Thanks To Harold And Kumar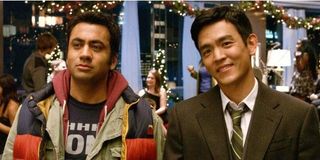 Starring as Harold Lee in Harold & Kumar Go To White Castle has earned John Cho something of a reputation that he can't quite live up to. That's because most people assume that he's a stoner, but while he himself doesn't smoke weed as much as his prior performance would suggest, that doesn't mean that he's not above taking advantage of the perks. In fact, because of Harold & Kumar, John Cho is basically a weed magician who can seemingly summon a joint whenever he desires.
That's exactly what happened to John Cho during a previous visit to San Francisco. Cho, who is currently doing the media rounds to promote his reprisal of Hikaru Sulu in Star Trek Beyond, recalled the most recent use of his bizarre super-power to Vulture, as he remarked:
Obviously with great weed power comes great responsibility. Still, from the sound of things, John Cho has got it very much under control, especially since, despite people's assumptions following his antics in 2004's Harold & Kumar Go To White Castle, 2008's Harold & Kumar Escape From Guantanamo Bay, and 2011's A Very Harold & Kumar 3D Christmas, the actor insists that he's not one to overly dabble in the substance. I wonder where people got that idea from, though?
One can only imagine the kind of magnetic drug power that John Cho would possess if he ever tried to summon weed while he was alongside the Kumar to his Harold, Kal Penn, especially if Neil Patrick Harris was in the vicinity of both of them, too. For those of you that haven't seen any installment from the _Harold & Kumar _franchise, the first film revolve around our titular heroes on the pursuit for White Castle after getting incredibly high and then deciding that the only way to cure their munchies was with this particular hamburger.
A modest success, which also received some impressive pretty impressive reviews, Harold & Kumar's $23.9 million gross meant that a sequel was eventually greenlit in 2008, which saw Harold and Kumar imprisoned after being mistaken for terrorists, ending up in Guantanamo Bay, which they then subsequently try to escape from. This was even more successful, as it grossed $43. 2 million, leading to A Very Harold & Kumar 3D Christmas, which wasn't quite able to match its predecessor, as its gross dropped a little down to $35.4 million. Currently there don't seem to be any further plans for a Harold & Kumar 4, but those of you still looking for your John Cho fix can do so right now, because Star Trek Beyond is finally in cinemas.
Your Daily Blend of Entertainment News
Thank you for signing up to CinemaBlend. You will receive a verification email shortly.
There was a problem. Please refresh the page and try again.