Star Trek Beyond Won't Be A Traditional Kirk-Spock Adventure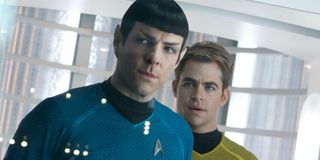 Much like Star Wars: The Force Awakens, plot details for Star Trek Beyond are still largely under wraps. Though we know the crew of the Enterprise will voyage into deep space, we don't know what will happen to them. With the new day comes a new tidbit about the third installment of the rebooted franchise, and it looks like this one will be different than the previous installments, even if it's only in terms of Spock and Kirk.
Star Trek and Stark Trek Into Darkness honed in on Chris Pine's Captain Kirk and Zachary Quinto's Spock, even though most of the characters got at least some time in the spotlight. For Star Trek Beyond, however, the Vulcan won't be spending a lot of time with his buddy, turning his attention to Karl Urban's Dr. Leonard "Bones" McCoy instead. Quinto revealed this during an interview with The Telegraph. He elaborated by saying:
Bones seems to have a closer relationship with Kirk, as the two first met while boarding the shuttle for the Starfleet academy. It'll be a nice change of pace for both Spock and Bones, as one is blunt and calculating, and the other more emotionally driven. Hopefully this means we'll also be seeing more of Bones this time around.
Star Trek Beyond also stars Zoe Saldana (Uhura), Simon Pegg (Scotty), Anton Yelchin (Chekov), John Cho (Sulu), Sofia Boutella, Joe Taslim, Lydia Wilson, and the newly cast Idris Elba. Considering the full extent of Benedict Cumberbatch's Khan role wasn't officially revealed for Into Darkness before hand, it shouldn't come as a surprise that we still don't know much about Elba's character. However, he did say that he too shares a lot of scenes with Spock, who now seems to be a more and more prominent character. At one point it was thought Elba would play a Klingon, given how they popped up in Into Darkness, teasing a potential reoccurrence down the road. However, Pegg, who took over scripting duties with Doug Jung, stated publicly that Elba is not a Klingon.
Elsewhere, we saw set photos leak from the set, revealing the new uniforms of the Enterprise crew in their entirety, after director Justin Lin revealed the new Starfleet logo. A new white-skinned alien was also shown to be in their company, though the specific details on this scene are unknown at this time.
Star Trek Beyond will hit theaters on July 8, 2016. In the meantime, the cast and crew are continuing their Omaze charitable campaign. Fans get the chance to win a role in the film by supporting a number of organizations with their donations. Quinto and the cast dedicated this week to the late Leonard Nimoy, the actor who originated the character of Spock and who appeared in the previous two Trek films before passing away.
Your Daily Blend of Entertainment News
Thank you for signing up to CinemaBlend. You will receive a verification email shortly.
There was a problem. Please refresh the page and try again.