The Thor: Ragnarok Director's Description Of Thanos Is Hilarious And Perfect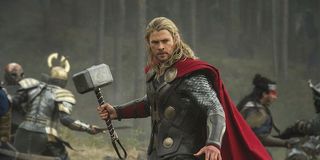 There's something inherently hilarious about a buff Norse guy who has no real understanding of typical human social cues, and it's why both previous movies with Chris Hemsworth's Thor at the center have had a good number of big laughs. It's part of the reason why director Taika Waititi is such a big asset for the upcoming Thor: Ragnarok, as his past work has vividly demonstrated his hilarious comedic sensibilities. We know he's bringing that energy to the Marvel Studios movie as well, as you can see his description of Josh Brolin's Thanos is an unexpected gem:
There's definitely no denying that Thor: Ragnarok director Taika Waititi has a mind that's perfectly tailored for the comedy realm, and nothing sells that notion better than the above Instagram post. The photo in question features a crudely drawn picture of what's supposed to be Thanos, and is framed as being on an investigation board detailing everything Thor currently knows about the Infinity Stones. Clearly he knows very little about the Mad Titan. He's illustrated as a completely purple individual wearing the Infinity Gauntlet, with a post it note next to him sounding off the Cliffnotes of the character: purple, magic chair, doesn't like standing up.
This particular joke actually originates from the faux documentary Civil War: Team Thor, which Marvel Studios brought to San Diego Comic-Con last Saturday to get fans excited about Thor: Ragnarok. The short film explained how Thor has taken some personal time following the events of Avengers: Age of Ultron. Depicting the Son of Odin as living in Australia alongside a roommate named Daryl Jacobson, the clip showcased Hemworth's superhero living an average, mostly chill life -- as Australians are wont to do -- while trying to compile clues about the impending threat of the Infinity Stones.
Perhaps the most important thing about this picture is the fact that it gives us a strong understanding of the tone that Taika Waititi is shooting for with Thor: Ragnarok. More than any other film in the franchise to date, we expect that the 2017 blockbuster will emphasize humor and offer even more moments of levity than its predecessors, Kenneth Branagh's Thor and Alan Taylor's Thor: The Dark World. This creative decision makes even more sense when we consider that Chris Hemsworth has recently proven himself as an unexpectedly hilarious comedic actor with his role as Kevin in Paul Feig's Ghostbusters reboot. Whatever you thought about that movie, Hemsworth certainly proved he can sell a joke.
Fans have long lauded Marvel movies for their ability to utilize humor and levity during all the blockbuster action, but this one just might be the funniest Marvel Cinematic Universe film we've seen (move over, Guardians of the Galaxy and Ant-Man). We will bring you any and all updates related to Thor: Ragnarok as they become available to us.
The third installment in the Asgardian warrior's film franchise will hit theaters on November 3, 2017.
Your Daily Blend of Entertainment News
Originally from Connecticut, Conner grew up in San Diego and graduated from Chapman University in 2014. He now lives in Los Angeles working in and around the entertainment industry and can mostly be found binging horror movies and chugging coffee.