Here's How Fast The Flash Is In The Justice League Trailer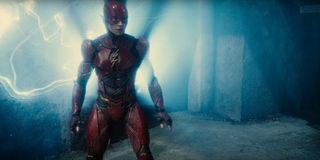 We got our first real taste of the DC Extended Universe's Flash when the Justice League trailer premiered last weekend at Comic Con, before it was released online shortly after. In the clip, we not only see Ezra Miller's Barry Allen moving out of the way of a flying Batarang milliseconds after Bruce Wayne flung it at his face, but we also got to see the Flash, surrounded by lightning, seemingly genuflecting at pace, too. While certainly impressive, we were left wondering exactly how fast does the Flash actually move in these clips? Well, thanks to the miracle of the internet, someone has figured it out.
The borderline geniuses over at The Science Of have done a whole heap of math and they've figured out that, roughly 1 second in our world is the same as 62 for Barry Allen when he is "at speed" as the Flash. Of course, there are other variables, but this is the breakdown for the sequence where Bruce Wayne throws his spiky Batman badge at Barry Allen as a catalyst for him to turn into the Flash.
That's unlikely to be the final number, though. Because The Science Of's team only had one clip to work from, which also saw the Flash moving in slower motion that usual, there were also a few cuts in the sequence to make the trailer a little quicker. Those of you who are looking for more conclusive numbers regarding the Flash's speed are in luck, though. Because yesterday, it was confirmed that Ezra Miller will be making his second appearance in the DC Extended Universe as the preposterously spry superhero in Suicide Squad, where it's more than likely that we'll get to see him take on Jai Courtney's Captain Boomerang, as the two have repeatedly locked horns throughout comic book history.
The latest Suicide Squad trailer ahead of its release at the start of August teased his presence as an eruption of lightning was seen around Captain Boomerang that looked eerily similar to those The Flash produced in the first Justice League trailer.
Of course, we got our first look at Ezra Miller's the Flash in Batman V Superman: Dawn Of Justice. Well, kind of. Because Barry Allen first appeared in a dream to Bruce Wayne, who later handily sent Wonder Woman (Gal Gadot) a file that had footage of the Flash using his skills in a supermarket to foil a robbery.
That's only the beginning, though. Because as well as the imminent Suicide Squad and November, 2017's Justice League, The Flash will continue Barry Allen's story in the DCEU in 2018, which has been written by Seth Grahame-Smith (working off a treatment from Phil Lord and Christopher Miller) and will be directed by Rick Famuyiwa.
Your Daily Blend of Entertainment News
Your Daily Blend of Entertainment News
Thank you for signing up to CinemaBlend. You will receive a verification email shortly.
There was a problem. Please refresh the page and try again.