This Rotten Week: Predicting Suicide Squad And Nine Lives Reviews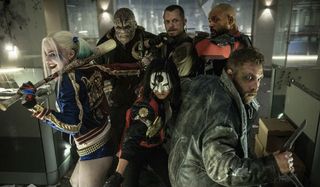 Summer can be a strange time of year for movie fans, and we happen to be starring down the barrel of a weird weekend ahead of us. This week we've got a team of bad guys and a dude who turns into a cat. Or to put it is more precisely: one looks pretty exciting, while the other looks horrible. Get ready for Suicide Squad and Nine Lives.
Just remember, I'm not reviewing these movies, but rather predicting where they'll end up on the Tomatometer. Let's take a look at This Rotten Week has to offer.
I'm not sure I've been more excited for a movie in quite some time. Ever since I the first trailer for Suicide Squad a year ago, with "I Started a Joke" playing melodically in the background, Harley Quinn swinging from her cage, and really just about everything in between, I was hooked. For a dude who loves comic book flicks, this appeared just the right brand of action, hijinks, foreboding and DC Universe building. That it could even send someone with Will Smith's cache into an ensemble role is all the more impressive. And now it's finally here.
The one concern I have going into Suicide Squad, much like any other "team" comic book flick, is that are just so many characters. Giving them all fair share of work to do is a tough hill to climb. The Avengers have pulled it off, but Batman v Superman: Dawn of Justice stands as a recent example of how to not handle multiple heroes at once. Basically, the DC Universe has struggled some in the short term, but I suspect this film begins the turn around. It looks paced, deep, and, oh, there's that Jared Leto as Joker. I suspect critics to react well and that it jump near the top of recent comic book films.
Fifty-seven seconds. That's the longest I could last. Fifty-seven seconds of the trailer for Nine Lives and I had to call it quits. And even getting there was pure torture. I got to the part where Christopher Walken says, "All right cats, let's do this!", I Put a Spell on You plays in the background and there's a flash of lightening. At that point I couldn't take any more.
In Nine Lives, a millionaire becomes a cat in order to learn more about what's really important in this world. Sure it's stupid, but what really has me confused is how good the cast is. Kevin Spacey, Jennifer Garner and the aforementioned Christopher Walken? They all agreed to be in a flick about a dude inhabiting a cat's body. It's like someone (or a lot of people) lost a bet or are being blackmailed. I can't figure out any other reason this is happening.
Barry Sonnenfeld directs, having most recently earned some critical love for his work on Men in Black III (68%). But there's also RV (23%) and Fun with Dick and Jane (29%) on his resume. This latest will almost definitely be in that latter group. Right?
Last week was mot a good week at all for This Rotten Week. Only one of the three movies fell within a ten percent guess. That, my friends, constitutes a poor effort. Jason Bourne (Predicted: 88% Actual: 56%) fell below its predecessors in the eyes of the critics, and we can probably classify it as disappointing even with the score on the right side of 50%. The big complaint here from critics was the flick had all the hallmarks of a Bourne film without really bringing anything new to the table. I mean, I'll still love it, but this goes down as the worst in the franchise by far.
Meanwhile, I was wrong in the other direction on Bad Moms (Predicted: 47% Actual: 63%). What I thought would be a forgettable, do nothing comedy turned out okay with the critics. I was right on one aspect in my write up where I thought Kathryn Hahn looked pretty funny in her role. Turns out she steals the show, and helped reviews remain positive. I wasn't off by a huge margin here, but I had the overall tenor of the reviews wrong.
Finally, Nerve (Predicted: 53% Actual: 56%) will surely be a movie you see come on cable a year from now and have no recollection of it ever hitting the theater. I was nearly right on the money with my prediction, but even I had to go back and quickly glance what the flick was even about. It's only been a week and I was drawing blanks.
Next time around we've got Florence Foster Jenkins, Pete's Dragon andSausage Party. It's gonna be a Rotten Week!
Your Daily Blend of Entertainment News
Doug began writing for CinemaBlend back when Terminator: The Sarah Connor Chronicles actually existed. Since then he's been writing This Rotten Week, predicting RottenTomatoes scores for movies you don't even remember for the better part of a decade. He can be found re-watching The Office for the infinity time.