Two Songs on Guardians Of The Galaxy Vol. 2's Awesome Mix, According To James Gunn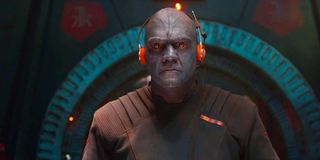 Music was an integral part of Guardians Of The Galaxy's success. Not only did it create a connection between the audience and Chris Pratt's Peter Quill that reinforced the humanity of the character, but it also dictated and provided the rhythm to some of the film's coolest moments. Obviously that means there is going to be a lot of hype surrounding the tracks that are included on Guardians Of The Galaxy Vol. 2's soundtrack, which is why most of you will be ecstatic to learn that director James Gunn has revealed two of them.
The tech savvy filmmaker, who does a bang up job of sharing photos, anecdotes, and all kinds of information regarding Guardians Of The Galaxy 2's production, took to Facebook to reveal that the blockbuster is going to feature two absolutely stellar tracks. After being quizzed about GOTG 2's OST, Gunn wrote back:
As James Gunn alludes to in his post, the above songs actually featured during the Comic Con trailer for Guardians Of The Galaxy Vol. 2. For those of you that weren't at the event, though, and want to listen to the tracks and then imagine the antics that Peter Quill, Drax, Gamora, Groot, and Rocket will be getting up to when they're playing, you can do so below. Starting with Come A Little Bit Closer:
Sensational stuff. Now a few more of you are likely to have heard Fleetwood Mac's The Chain, not because it has one of the greatest song endings of all time but because it comes from one of the finest albums ever, too. If you've not had the good fortune to hear it before, then you're in luck because you can do that right now by clicking below:
I told you. James Gunn has already admitted that he chose all of the songs for Guardians Of The Galaxy Vol. 2 while he was writing and building the script, and he's also revealed that it will include a further David Bowie song, after Moonage Daydream appeared in the original. Gunn insisted that he wanted to include a David Bowie song as a tribute to the icon as he was one of the director's idols.
Plus, James Gunn has admitted that he's feeling some pressure to try and eclipse the original's soundtrack because of how popular it was. We'll finally see if he can do just that when Guardians Of The Galaxy Vol. 2 is released on May 5, 2017.
Your Daily Blend of Entertainment News
Thank you for signing up to CinemaBlend. You will receive a verification email shortly.
There was a problem. Please refresh the page and try again.