What Baby Groot Will Remember In Guardians Of The Galaxy 2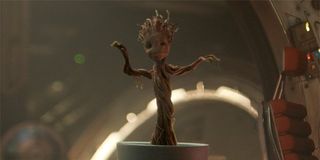 Groot was a gargantuan powerhouse for most of Guardians of the Galaxy, his deep voice and three-word utterance charming moviegoers everywhere. However, by the end of the movie, he had been reduced to a twig, but thanks to Rocket saving that twig, Groot had started to regrow into who we have been calling "Baby Groot." When we reunite with the talking tree in Guardians of the Galaxy Vol. 2, he won't have grown that much bigger, but according to Marvel Studios president Kevin Feige, just because he's smaller in size doesn't mean he's not the same Groot we know and love, including what he remembers.
While speaking with Collider at San Diego Comic-Con, Feige revealed that despite his "baby" status, Groot will retain his memories in Guardians of the Galaxy Vol. 2, even though he's not quite behaving the same way. Feige said:
For all the non-Star Trek fans out there, Kevin Feige is referring to how despite being resurrected by the Genesis matrix and reunited with his Katra, Spock wasn't acting entirely like himself during the end of Star Trek III: The Search for Spock and throughout Star Trek IV: The Voyage Home. Just like the Vulcan, it sounds like even though Groot isn't behaving exactly the same way as he did in the first movie, he still remembers everything that's happened to him before. The slate wasn't wiped completely clean when he sacrificed himself back in 2014 to save his teammates. Feige also added that Groot and Rocket's special relationship will continue to be prominent in the sequel, only now it's Rocket that's the tall one.
Comic-Con guests got their first look at Baby Groot on Saturday night from the special Guardians of the Galaxy Vol. 2 footage. Baby Groot was seen rescuing Rocket and Yondu from an especially ruthless band of Ravagers and retrieving Yondu's special head fin from the captain's quarters. From what we've seen and heard so far, it sounds like Groot will remain small for most of Guardians of the Galaxy Vol. 2, though perhaps something will happen that accelerates his growth so he's back to his normal large and imposing self by the end of the story. However big or small, Groot will continue to fight alongside his friends, along with new recruits Yondu, Mantis and Nebula. Oh, and just because he looks adorable, don't underestimate him in battle, as the footage made clear that he still has some of his natural abilities.
You can see Baby Groot in action when Guardians of the Galaxy Vol. 2 is released on May 5, 2017.
Your Daily Blend of Entertainment News
Connoisseur of Marvel, DC, Star Wars, John Wick, MonsterVerse and Doctor Who lore. He's aware he looks like Harry Potter and Clark Kent.
Your Daily Blend of Entertainment News
Thank you for signing up to CinemaBlend. You will receive a verification email shortly.
There was a problem. Please refresh the page and try again.