Adam West, Burt Ward, and Julie Newmar Are Returning To Batman, Here's What We Know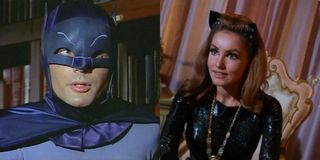 Why does everything related to The Dark Knight have to be so damn grim these days? There was a time when Batman represented campiness, fun, and a lighthearted sense of humor. Adam West's incarnation of the Caped Crusader holds a distinct pace in the hearts of many Bat-Fans, and we all look back fondly on the 1966 TV series as a wholly unique era in the hero's history. However, it now looks like we will soon see a major resurgence of that particular universe, as Adam West, Burt Ward, and Julie Newmar will soon return to their respective roles as Batman, Robin, and Catwoman for a major animated event.
Get your shark-repellent spray and bubble-top Batmobiles ready, Bat-Fans; EW is reporting that Adam West, Burt Ward and Julie Newmar will soon reprise their iconic Batman '66 roles in a new Batman animated movie titled, Batman: Return of the Caped Crusaders. The movie will return audiences to the campy world of 1966 Gotham City to see Adam West's Batman and Burt Ward's Robin face off against the entire iconic rogues gallery from that legendary era. Expect to see quite a bit of "WHAM," "POW," and "CRASH" flying across the screen.
Julie Newmar is the only surviving central villain from the Batman '66 ensemble, so her Catwoman will most certainly make a return as well. We're glad to have her back, but it's also somewhat bittersweet. It's hard to shake the feeling that Frank Gorshin, Burgess Meredith, and Cesar Romero would all return as well if we were lucky enough to still have them around. Rest in peace, you wonderful icons.
The Adam West Batman mythos has struck a serious chord with audiences in recent years. Perhaps it's a response to the overwhelming darkness of the latest films, or maybe it's simple nostalgia. Batman '66 ended almost 50 years ago, but the Adam West incarnation of the character has subsequently found himself adapted into the comics, cartoons, and even the video games without even a hint of irony. In many ways Adam West's Batman has become just as valid as the Batmen written by Frank Miller, Grant Morrison, or even Scott Snyder; it's simply another interpretation. After all, we need the light to balance out the dark.
Also worth noting is the return of the relationship between Batman and Catwoman. Some people adore the back and forth between Michael Keaton and Michelle Pfeiffer, while other people prefer the more adversarial partnership between Christian Bale and Anne Hathaway. In this writer's humble opinion, the palpable sexual tension between Adam West's campy Batman and Julie Newmar's sexy Catwoman will always stand as the standard by which all other live-action depictions are compared.
Check out the below clip and try to tell me that I'm wrong:
Holy excitement, Batman! Cinema Blend will bring all of you Bat-Fans any and all relevant details related to Batman: Return of the Caped Crusaders as more information becomes available to us. The animated feature will release on Digital HD on October 11, and Blu-Ray on November 1. To the returning cast members of Batman '66 we have one very important thing to say: welcome back.
Originally from Connecticut, Conner grew up in San Diego and graduated from Chapman University in 2014. He now lives in Los Angeles working in and around the entertainment industry and can mostly be found binging horror movies and chugging coffee.
Your Daily Blend of Entertainment News
Thank you for signing up to CinemaBlend. You will receive a verification email shortly.
There was a problem. Please refresh the page and try again.