What Brie Larson Might Look Like In Captain Marvel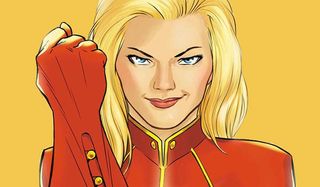 We've still got close to three years to wait until Captain Marvel is finally released. And while we can expect to see images and footage of Brie Larson in the famous costume long before then, one nifty illustrator has had a guess at what the Oscar-winning actress might look like as Carol Danvers. You can take a look at Boss Logic's proposed picture of Brie Larson's Captain Marvel below.
While a little darker than the bright red and blue garment tinged with yellow that we are accustomed to seeing Captain Marvel adorn in the comics, it's undeniable that the outfit is a nice moulding of the classic aesthetic with a modern edge and durability.
Clearly the most impressive aspect of the picture, though, is Brie Larson's sensational bouffant. Especially the mohawk, which immediately brings to mind dozens upon dozens of hair-metal videos from the 1980s. While some of you might still be deliberating whether or not the above image is perfectly suited to Marvel Studio's upcoming adaptation of the beloved character, there was one person who did give it her seal of approve: Brie Larson herself.
Brie Larson took to her Twitter account to praise Boss Logic's creation be reposting his image, as well as writing, "So cool," and she then even used three clapping hand emojis to showcase her appreciation, too.
Brie Larson, who picked up the Best Actress Academy Award back in February for her startling portrayal in Room, has already shown the world that she's hard at work researching her role as Carol Danvers in Captain Marvel. Earlier this month she posted an image of herself reading a Captain Marvel comic while, at the same time, wearing pajamas that depicted the superhero's outfit.
Unfortunately, we've still quite a while to wait until we finally have any inclination about the costume that Brie Larson will actually adorn as Captain Marvel. In fact, while we know that Larson will star and Nicola Perlman and Meg LeFauve are writing, we still don't know who is even directing.
But, that's understandable. Because before Captain Marvel is upon us on March 8, 2019,Doctor Strange, Guardians Of The Galaxy Vol. 2, Spider-Man: Homecoming, Thor: Ragnarok, Black Panther, Avengers: Infinity War, and Ant-Man And The Wasp have to be released. So there's plenty of time.
Your Daily Blend of Entertainment News
Thank you for signing up to CinemaBlend. You will receive a verification email shortly.
There was a problem. Please refresh the page and try again.