2016's Biggest Box Office Winners, So Far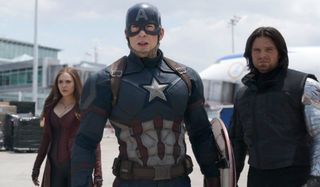 By all accounts, this summer blockbuster season has been a disappointment. But that hasn't stopped people from flocking to the theaters. Five of the current Top 10 movies on the 2016 box office charts were released over the summer... though that means that an additional five movies that came out long before the usually lucrative summer season managed to strike gold. The data suggests that the summer no longer stands as the only time in which a movie can hit and hit big. Deadpool collected bank in February, as did Zootopia. Meanwhile, movies that clung to traditional hot spots -- like Independence Day: Resurgence -- suffered under the weight of mediocre reviews and apathetic crowds.
We recently looked ahead at the 21 movies that we hope will revive 2016 after this lackluster summer frame. But before we put the summer season in the books, let's look back at the 10 box office winners of 2016 so far. These are not movies that managed the most profit, because they kept their budgets down. These are just the 10 movies, according to Box Office Mojo, that have sold the most tickets in 2016 so far. How many of these did you see? If you skipped them, tell us why in the comments section below.
Kung Fu Panda 3
Released back in January, the animated Kung Fu Panda 3 demonstrated real staying power for the Jack Black-led franchise, which quietly dominated the early frame of 2016 to the tune of $143 million. Even better for the series, this sequel did gangbuster business overseas, pushing the global box office take to $519 million, all but guaranteeing that a fourth Kung Fu Panda will be in the works before we know it. Even better, this movie was good. Quality is not being sacrificed by a series pandering to little kids. It's not Pixar, but it's far better than your average animated feature film.
X-Men: Apocalypse
With all due respect to Bryan Singer, I completely forgot there was an X-Men movie in theaters this summer until I started putting this list together. Hitting theaters over the Memorial Day weekend, Singer's follow up to the popular X-Men: Days of Futures Past pushed its domestic cume to $155.4 million -- good for seventh place (out of nine films) on the overall X-Men scale. Not great. These mutants were outclassed by another foul-mouthed Merc, who'll show up much later on this list.
Suicide Squad
The jury is still out on David Ayer's Suicide Squad. As we have covered in recent weeks, critics weren't overwhelmed by the DC super-villain team up, but audiences continue to head to theaters to check it out. So far, Squad has earned nearly $238 million at the box office, but the night is young, as they say. We recently reported that Suicide Squad was expected to lead the box for a third weekend, and there's no real competition on the horizon. Could it eventually overtake Batman v Superman as DC's top earner this year? Would that be a total shock?
Batman v Superman: Dawn of Justice
This one was supposed to be a slam dunk. Putting Batman (Ben Affleck) into his Superman sequel, Zack Snyder was combining, arguably, the two most popular superheroes on the planet in one movie for the first time. With Wonder Woman (Gal Gadot) to boot! And yet, here _Dawn of Justice _sits, at number 7 on the annual Top 10, with it looking likely that it'll get passed by Suicide Squad in weeks. What happened? The post-mortem continues, because there are several reasons Dawn of Justice only earned $330 million domestically to date. Plus, with Rogue One, Fantastic Beasts and Doctor Strange all on the way, is it possible BvS isn't even in the yearly Top 10 when all is said and done?
The Secret Life of Pets
When it comes to animated movies, if you build it (and it's halfway decent), they will come. Families need distractions in the summer season, because when it's hot, two hours in the air conditioning watching ANYTHING will do. That being said, with $340 million in tickets sold domestically, Secret Life tapped into a rabid audience... to the point where we already have movement on a Secret Life of Pets 2.
Zootopia
From this point forward, you are going to hear a recurring word on this list: Disney. The Mouse House is having an incredible year, diversifying its successes across its various properties, from Marvel to Pixar, to its own traditional animation. Zootopia, which has earned $341 million, is an original idea set in a city populated by domesticated animals. But it was the spunk of Judy Hopps (Ginnifer Goodwin), the smarmy charms of Nick Wild (Jason Bateman), and the creativity of the film's vision that kept crowds returning week after week to enjoy this incredible feature.
The Jungle Book
Switching over to live-action -- well, sort of -- Jon Favreau's Disney remake The Jungle Book crushed the competition this spring with its vivid CGI interpretation of the classic Disney cartoon. Not a full-blown musical, The Jungle Book mixed some familiar tunes into the more mature telling of an orphaned boy who's raised by wild animals. In my opinion, the stellar 3D helped sell a ton of extra tickets, leading to a $363 million haul and a fourth-place landing on the charts to date.
Deadpool
How did this happen? The superhero movie no one wanted to make became the foul-mouthed comedy no one wanted to miss. Credit Ryan Reynolds and director Tim Miller for continuing to believe in the unorthodox screenplay by Rhett Reese and Paul Wernick, turning Deadpool into a $363 million smash hit in the United States. The movie also devoured overseas records, and paved the way for Deadpool 2, which likely will build on this film's success by introducing fan favorites such as Cable and Domino.
Captain America: Civil War
Essentially The Avengers 2.5, Civil War rounds up almost every available Marvel hero into a battle of wills over the Sokovia Accords, basically pitting Captain America (Chris Evans) against Iron Man (Robert Downey Jr.) in a battle that is both personal and global. Earning $407 million to date, Captain America is the fourth-highest grossing Marvel movie, but not this year's highest-grossing film. That shocked me. I'm even more surprised, truthfully, at the movie that pushed Civil War from the top of its perch.
Finding Dory
Pixar swims to the top of the ranks with the unexpectedly brilliant Finding Dory. Not that I expected Finding Dory to flop. Pixar has set a standard, and even their disappointments are generally pleasing to a certain extent. But so much time had passed since Finding Nemo, and I wasn't sure how hungry audiences were for the further adventures of Ellen Degeneres' forgetful fish. Well, Dory has banked an impressive $477 million domestically, making it the movie, to beat for the rest of 2016.
The movies that just missed the Top 10
The films that almost made the Top 10, and still might by the time they are finished playing out in theaters, include:
_Star Trek Beyond _- $142 million
Jason Bourne - $131 million
Central Intelligence - $126 million
The Legend of Tarzan - $125 million
Ghostbusters -- $122.6 million
Managing Director at CinemaBlend. ReelBlend cohost. A movie junkie who's Infatuated with comic-book films. Helped get the Snyder Cut released, then wrote a book about it.
Your Daily Blend of Entertainment News
Thank you for signing up to CinemaBlend. You will receive a verification email shortly.
There was a problem. Please refresh the page and try again.