The Three Highest Paid Actresses Of 2016 May Surprise You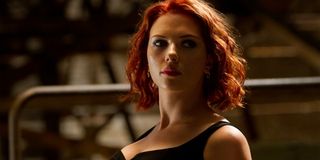 It turns out that being an actress can be quite a lucrative racket. Sure there are plenty of trials and tribulations along the way, but if you can hone and perfect your talent, get a bit lucky, and then work preposterously hard to showcase your ability to the world, then you can pocket dozens upon dozens of millions of dollars. Just look at Jennifer Lawrence, Melissa McCarthy, and Scarlett Johansson, who have been revealed as the three highest paid actresses of 2016.
Forbes have confirmed that for the second year in a row Jennifer Lawrence pocketed the most amount of cash of anyone else in her field, and it turns out that she took home several millions dollars more than her closest rivals. But how did Jennifer Lawrence manage to make so much money over the last 12 months?
Well, it's rather simple really. Jennifer Lawrence, whose bank account has swelled by $46 million over the last 12 months, earned this amount thanks to her profit slice from Hunger Games: Mockingjay -- Part 2, which went on to gross $653.4 million. Meanwhile, she also got paid $20 million upfront for Passengers. Still, if Lawrence is counting her pennies, she might be a tad disappointed with her sum, as it's $6 million less than her total in 2015.
Meanwhile, Melissa McCarthy was lagging behind with $33 million over the last 12 months. But, in the grand scheme of things, this was actually a huge increase for McCarthy, who was up $10 million from 2015 mostly because of her work in Ghostbusters, which she was reportedly paid $14 million for. Meanwhile she also wrote, produced and appeared in The Boss and signed up for her third film written and directed by her husband Ben Falcone, entitled The Life Of The Party.
Melissa McCarthy's ascension to second place cost Scarlett Johansson, who fell down to third position with the sum of $25 million. Once again it was Johansson's performances as Black Widow that brought home the bacon, as she appeared in Captain America: Civil War, while her work in Hail, Caesar! and The Jungle Book, as well as her controversial decision to sign up for _Ghost In The Shell _undoubtedly brought in plenty more moola, too.
Your Daily Blend of Entertainment News
Thank you for signing up to CinemaBlend. You will receive a verification email shortly.
There was a problem. Please refresh the page and try again.