Avengers Drop F-Bombs In Hilarious Civil War Gag Reel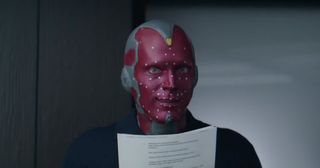 One of the main reasons why Captain America: Civil War worked so well was because it felt like an authentic battle between people who truly care about one another. That's enhanced by the fact that the actors who portray these characters truly do seem to have a genuine affection for one another, and they've never been afraid to show it. A gag reel has finally hit the web showcasing the sheer fun of making Civil War, and this tightly knit group of superheroes clearly has no problem letting F-bombs fly in front of one another. Check out the video below.
With the home release of Captain America: Civil War finally on the horizon, we have begun to get our hands on more and more special features from the film. One such important special feature is the always-enjoyable gag reel. The above supercut showcases a variety of scenes from Civil War's production, and each one looks like an absolute ball to film. Most forms of professionalism seem thrown to the wind, as the cast of Civil War curses like a group of sailors each and every time that they mess up a take.
Perhaps the most surprisingly pleasant member of the cast comes in the form of Chris Evans. As the straight-faced Captain America, Evans rarely gets a chance to goof off in the role of Steve Rogers. Serious doesn't seem to be his natural state however, as this gag reel shows him really cutting loose and having a downright phenomenal time on set.
This isn't the first Marvel gag reel that has had us in stitches. Last year the bloopers for Avengers: Age of Ultron hit the web when that particular film received its own home release, and we similarly experienced another amazing gag reel featuring the exact same performers. Familiarity most certainly seems to breed fondness, as The Avengers (as well as the actors that portray them) seem to have gotten closer and closer since first assembling in 2012.
It's difficult to really figure out why gag reels such as this one have become so fun to watch. In the end, all we're really doing is watching people laugh at one another. Perhaps it has something to do with the fact that these characters tend to be incredibly stoic and serious, but seeing them break character and have some fun makes us feel closer to them as human beings. After all, take away the special effects and the superpowers and we're simply left with people doing a job. A really cool job, but still a job.
Cinema Blend will keep you up to date with any and all relevant details related to the future of the Marvel Cinematic Universe. Make sure to pick up Captain America: Civil War on Digital HD on September 2, and Blue-Ray/DVD on September 13. Stay tuned for more details!
Originally from Connecticut, Conner grew up in San Diego and graduated from Chapman University in 2014. He now lives in Los Angeles working in and around the entertainment industry and can mostly be found binging horror movies and chugging coffee.
Your Daily Blend of Entertainment News
Thank you for signing up to CinemaBlend. You will receive a verification email shortly.
There was a problem. Please refresh the page and try again.