A Man Dressed As Zorro Shut Down A Major American Airport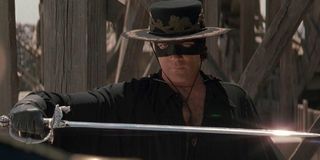 Where was Antonio Banderas last night? Because Los Angeles International Airport (LAX) had to be evacuated Sunday evening due to erroneous reports of shots being fired, and officers on the scene ran into -- of all things -- a man dressed as Zorro, complete with a plastic sword. You can see him being apprehended by the long arm of the law in this video:
The reports of shots being fired were incorrect, and the airport has been re-opened (according to USA Today), but that doesn't mean there wasn't a whole hell of a lot of confusion on the ground in Los Angeles on Sunday night. Starting around 9 pm PST, reports of shots being fired led to a grounding of flights and an evacuation of several terminals -- which, if you have ever been to the busy airport that is LAX, you know that can be a logistical nightmare. Thankfully, the reported "shots" turned out to be nothing more than loud noises, but that wasn't determined right away by the police officers who arrived on the scene. And adding to even more confusion was the sight of Zorro, waiting outside of one of the terminals, with a plastic sword and a full-blown mask and costume.
At first, there was chaos. Potential passengers paid on the ground as police searched the area, responding to reports of gunfire. Even NBC News Anchor Lester Holt, who happened to be arriving on a plane at LAX, took to social media in the heat of the moment, before the situation was defused.
Naturally, once it was verified that there were no shots, and that order had been restored, Twitter flooded with Zorro jokes, because the situation was so unusual.
And:
Hollywood wants to get back into the Zorro business. Six months ago, it was reported that Jonas Cuaron, co-writer of Gravity, had been tapped to shepherd Z, a reboot of the Zorro franchise. However, Tarzan tried to undergo a similar rejuvenation this summer, and audiences, for the most part, steered clear. Was the guy at LAX auditioning for the new Zorro movie? Or was he simply on his way to Hollywood Boulevard, where he'd entertain tourists on a daily basis with his plastic-sword-fighting prowess? We may never know.
Movie junkie. Infatuated with comic-book films. ReelBlend cohost. Resident dad. Extroverted introvert. Wants to see the Snyder Cut. Managing Director at CinemaBlend.
Your Daily Blend of Entertainment News
Thank you for signing up to CinemaBlend. You will receive a verification email shortly.
There was a problem. Please refresh the page and try again.