This Rotten Week: Predicting The Magnificent Seven And Storks Reviews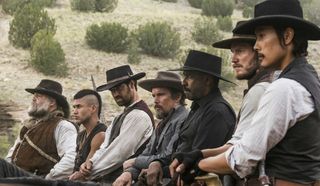 Two things Hollywood loves are remakes and animated movies. This week we are treated to both! Coming this Friday we've got the The Magnificent Seven and Storks. It's gonna be a Rotten Week!
Let's Just remember, I'm not reviewing these movies, but rather predicting where they'll end up on the Tomatometer. Let's take a look at This Rotten Week has to offer.
Retelling the 1960 classic starring Yul Brynner and Steve McQueen (among many, many others), an updated The Magnificent Seven now has it's own all-star cast including Denzel Washington, Christ Pratt, and Ethan Hawke (among many, many others). The group is tasked with defending a small town in Western shoot'em up-style with a modern day vibe. It looks solid if unspectacular.
Directed by Antoine Fuqua, there does appear a similar vibe to his other action flicks, including Olympus has Fallen (48%), Brooklyn's Finest (43%), Shooter (48%) and Training Day (72%). His works have found varying levels of critical success, though it does appear his style, for the most part, translates here. Critics are liking it thus far, with the Tomatometer at 64% through 36 reviews. That's a solid score, which I doubt moves too much over the week. It's an action film first and foremost with the name recognition of the original and a great cast. I don't love the remake culture in Hollywood, but I think this one gets a pass (if not just for being a remake of a remake itself).
Storks follows the story of a repurposed workforce of birds who used to deliver babies all over the world, but with a hint of modern day criticism toward out consumer culture, now deliver for a big online retailer. It doesn't seem like anyone's even trying to hide the overt messaging here. But then one bird activates dormant baby machine and it's game on. Even for an animated movie this looks pretty dumb.
Storks is brought to us by Warner Bros. Animation, which is the same company that put out the wildly successful The Lego Movie (96%) a few years ago. That being said, I think this movie will fail to live up to that sort of expectation. For animated movies to really land they need to cross appeal to both kids and adults. From the trailer, I think they miss the latter demo. It just appears silly animated fare to get kids off to the theaters.
It wasn't a great week for the Rotten Watch last time around. Even with head starts on a few of the flicks, I missed pretty bad on three of them.
Snowden (Predicted: 40% Actual: 58%) was able to maintain enough positivity throughout the week to finish above the 50% mark. I thought it's possibly polarizing tone would send reviewers much in the other direction, but that didn't happen. Overall the reception was lukewarm when I thought it would trend much more negative. This was a miss for sure.
Meanwhile, Blair Witch (Predicted: 80% Actual: 37%) represented a colossal mistake. The early reviews for this flick were positive and I read way too much into them. There were enough nice words coming out early that I thought it could maintain the solid score. Oops. It dropped like a rock and ended up very much with its horror-flick genre buddies. Ultimately, it's another forgettable sequel to a hit original.
Then there was Bridget Jones's Baby (Predicted: 84% Actual: 78%) which finished in range. I can't full credit here, as a bunch of reviews were already in when I threw out my prediction. Had those critics not weighed in, I definitely would have gone lower considering I found the trailer almost unwatchable and ridiculous. Nevertheless, I used the information at hand and this was my only win of the week.
And finally, enough critics liked Hillsong: Let Hope Rise (Predicted: 40% Actual: 60%) to keep it on the positive side. And when I say "enough" I mean three critics liked it and two didn't. Five reviews is more like an incomplete than anything considering If just one had gone the other way I'd have hit the exact score. That's not enough of a sample to make any real judgments.
Next time around we've got Deepwater Horizon, Masterminds and Miss Peregrine's Home for Peculiar Children. It's gonna be a Rotten Week!
Your Daily Blend of Entertainment News
Doug began writing for CinemaBlend back when Terminator: The Sarah Connor Chronicles actually existed. Since then he's been writing This Rotten Week, predicting RottenTomatoes scores for movies you don't even remember for the better part of a decade. He can be found re-watching The Office for the infinity time.