Andy Warhol Is Getting A Biopic And The A-List Casting Makes Complete Sense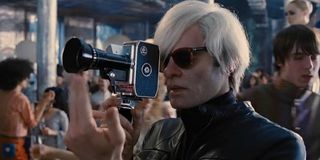 Sometimes it's hard to get overly excited about yet another biopic, but when the casting of its central character is perfect, a twinkle of anticipation suddenly emerges. That's why the news that Andy Warhol will be played by Jared Leto in an upcoming biopic of the legendary artist immediately suggests that the film, which is simply titled Warhol, will be both a must-watch and an awards season contender when it's eventually released.
The Hollywood Reporter have confirmed that Jared Leto will play the acclaimed artist and painter, whose work across a number of mediums from the early 1950s up until his death at the age of 58 in 1987 was highly regarded. Not only was Warhol a successful illustrator, but he managed and produced The Velvet Underground, founded Interview magazine, authored several books and his art spread across the likes of painting, sculpting, filmmaking, drawing, photography and much more.
Jared Leto is clearly rather invested in bringing a new version of Andy Warhol's life to the big-screen, too. That's because the Academy Award winning actor will produce the film as well as star in it, while he's currently working behind the scenes with uber producer Michael De Luca to assemble the perfect creative team to do Warhol's life justice.
Michael De Luca is a wise choice to assist Jared Leto in his quest, as he has previously worked on the real-life tales The Social Network, Moneyball and Captain Phillips. All of those, apart from all being superb films of the highest order, were each nominated for the Academy Award for Best Picture. Sure, he also oversaw Fifty Shades Of Grey, too, but the fact that it grossed $571 million proves he has an eye for success.
Michael De Luca and Jared Leto have already been hard at work, as Terence Winter, the Academy Award nominated writer of The Wolf Of Wall Street, has been hired to write the script for Warhol. Terence Winter will use the 1989 book Warhol: The Biography, written by Victor Bockris, as his blue-print, which Jared Leto and Michael De Luca acquired the rights to.
Because of the talent involved, Warhol is expected to be given a substantial budget (rather than an indie-sized one), while they'll be on the look out for a renowned director that can make this a zeitgeist film that will challenge for accolades and awards upon its release. That's why the words Academy and Award have been mentioned so much over the last few paragraphs.
While Jared Leto's performance as the Joker in Suicide Squad proved to be divisive, it's clear that he is a perfect choice for Andy Warhol, whose talent and skill was juxtaposed with an alleged cold and shallow personality and a quirky and eccentric exterior. Clearly Warhol is a film that will need to be on your radar.
Your Daily Blend of Entertainment News
Your Daily Blend of Entertainment News
Thank you for signing up to CinemaBlend. You will receive a verification email shortly.
There was a problem. Please refresh the page and try again.