Chris Pratt And Jennifer Lawrence's Passengers Hit A Major Social Media Milestone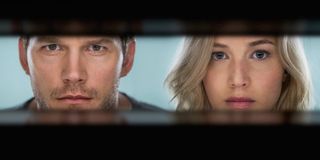 Social media has fundamentally changed the way movies are marketed. Unlike previous eras, we can now actually see quantifiable proof regarding what films have people talking all across the Internet. With that in mind it now seems that the Chris Pratt/Jennifer Lawrence-led sci-fi romance, Passengers, has just passed a major social media milestone by garnering an absolutely insane number of online conversations.
According to a brand new report from ComScore (via Variety), it looks like Passengers has absolutely dominated social media over the course of the last week. Following the debut of the film's first official trailer, Passengers generated more than 43,000 unique conversations online between September 19 and September 25. For the sake of comparison, the second place film -- Jumanji -- garnered less than half that many conversations within that same time period.
It's not hard to pin down the reasons why Passengers has so many people talking. For starters, the film is headlined by two of the hottest actors working in Hollywood today. Chris Pratt and Jennifer Lawrence are both currently experiencing intense hot streaks with the work they have produced in recent years, and people are clearly excited to see what happens when they join forces. Additionally, we've seen a noticeable resurgence in the popularity of space-based sci-fi in recent years. From Interstellar to last year's The Martian, films taking place amongst the stars have once again captured our collective imaginations.
Of course, we should note that Passengers' popularity on social media is relatively new. Although it generated an insane number of new conversations within the last week, it doesn't come close to the cumulative number of conversations garnered by movies like Rogue One: A Star Wars Story or Fifty Shades Darker. That being said, Passengers isn't a franchise film or a major blockbuster event, so this surge in popularity remains incredibly impressive and bodes well for its December release.
For those of you that haven't kept up with Passengers, allow me to get you up to speed. The film follows a space ship on a 120-year journey to a distant colony. All 5,000 souls on board remain in a state of cryogenic sleep, until a malfunction causes two of the ship's passengers (Pratt and Lawrence) to awaken 90 years too early. Forced to face the fact that they will live the rest of their lives on this ship, they begin to develop feelings for one another -- until they realize that the entire ship (and everyone on board) is facing an imminent and mysterious catastrophe.
Check out the trailer for Passengers below to see what all the fuss is about:
We will bring you all of the latest and greatest news associated with the release of Passengers as more information becomes available to us. The upcoming sci-fi love story will hit theaters on December 21.
Originally from Connecticut, Conner grew up in San Diego and graduated from Chapman University in 2014. He now lives in Los Angeles working in and around the entertainment industry and can mostly be found binging horror movies and chugging coffee.
Your Daily Blend of Entertainment News
Thank you for signing up to CinemaBlend. You will receive a verification email shortly.
There was a problem. Please refresh the page and try again.