See The Ridiculous Transformers Car Michael Bay Built Only To Flip Other Cars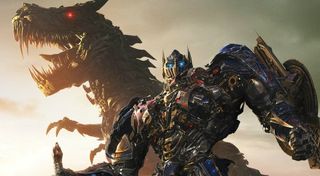 Most people live very average, normal lives. They get up, they go to work, and they come home -- all while driving very normal cars. Then there's Michael Bay, whose life has been defined by explosions and truly awesome vehicles. In his case, he gets to uses absolutely insane cars that are specifically designed to flip other cars on the road. Needless to say, Transformers: The Last Knight looks like an absolute blast to film. Check out the video below to see the behemoth machine in action.
That behind-the-scenes clip just surfaced on Facebook, and it provides a truly awesome look into how Michael Bay and the crew of Transformers: The Last Knight has managed to achieve some of the movie's destructive effects. Classified as the "Baybuster," the all black, Batmobile-esque vehicle comes specially designed with a ramp on the front. This ramp is perfectly positioned to scoop up other cars on the road, and throw them around in dramatic fashion when it makes contact. Yes, it's as cool as it sounds.
It's difficult to glean any major plot elements from the video, but it's quite obvious that the next Transformers movie will feature a ton of urban warfare -- which has pretty much become the standard for the series in recent years. Although The Last Knight will delve into some ridiculous new territory (Nazis, King Arthur, mini-Dinobots, etc.) the series will still center firmly on enormous, citywide action sequences to get audiences into theaters. If it isn't broken, then don't fix it, I suppose.
This is a fairly important effect for the film to properly nail down. If you've ever seen a Transformers movie, you already know that the entire series is predicated on the idea of complete vehicular mayhem. Michael Bay has very proudly gone on record saying that he makes these movies for 14-year-old boys, and it looks like that segment of the audience will definitely be satisfied by the carnage depicted on screen.
For all of the flak that Michael Bay movies receive, we have to say that we respect the overall commitment to special effects. While his movies definitely feature truly absurd levels of CGI, the infamous filmmaker also has a serious knack for creating real life destruction that he later alters with CGI. Whenever you go to see a Michael Bay film, you can almost always guarantee that the chaos, explosions, and even the car flips, all happened during the shooting process. It just goes to show that, even in an age defined by digital augmentation, some filmmakers continue to take it upon themselves to try and add a layer of authenticity to even the most outlandish films.
Although it's a very quick glimpse into the production process of Transformers: The Last Knight, it has us even more excited than we ever thought possible for the next installment in the franchise. Of course, now all I want in the world is a Baybuster car of my very own. The fifth installment in the Transformers franchise will hit theaters next summer on June 23, 2017. Stay tuned for more details!
Your Daily Blend of Entertainment News
Originally from Connecticut, Conner grew up in San Diego and graduated from Chapman University in 2014. He now lives in Los Angeles working in and around the entertainment industry and can mostly be found binging horror movies and chugging coffee.
Your Daily Blend of Entertainment News
Thank you for signing up to CinemaBlend. You will receive a verification email shortly.
There was a problem. Please refresh the page and try again.