7 Fantastic Things The New Fantastic Beasts Trailer Just Revealed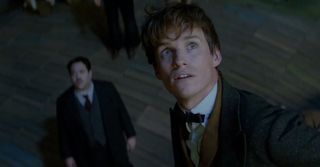 Fantastic Beasts and Where To Find Them will arrive in theaters in a matter of months. Warner Bros has given us what is likely to be our last big glimpse of the film between now and then, but the new trailer offers Harry Potter fans an eyeful of exciting stuff to speculate over while we wait for November to arrive.
Grindelwald is Tearing Up Europe
Perhaps one of the most exciting mentions in the Fantastic Beasts trailer for Harry Potter fans is when MACUSA President Seraphina Picquery (Carmen Ejogo) is seen urgently saying.
Is she referring to the beasts that have escaped all over New York? Or is she talking about something else? Regardless, the mention of Gellert Grindelwald reminds us that, during this time period, Dumbledore's former best friend is wreaking havoc across the pond. Will Grindelwald factor into this story at some point? If not the first film, then maybe the sequel? It's possible, especially if we take into consideration the mention of a possible war brewing. Or maybe this is just meant to be an offhand reference to remind us that the U.K. is dealing with its own magical catastrophes during this time period.
Ezra Miller's Credence
Fantastic Beasts has been keeping the lid on Ezra Miller's Credence, but this trailer gives us a look at him, and his mother Mary Lou (Samantha Morton), seen professing the existence of witches and wizards in New York. Credence, meanwhile, appears to be witnessing something at first, and later is seen with Colin Farrell's Graves, who tells him:
It sparks some very interesting questions about Graves' intentions (is he coming up against No-Majes? Or is he talking specifically about about witch hunters like Credence's mother, Mary Lou), but it also leads us to question whether or not young Credence has magical abilities of his own. Unless Graves is referring to himself and the wizarding community only, when he says "we."
The Inside of Newt's Case
Who didn't want to get a peek inside Oscar the Grouch's trash can, or Mary Poppins' carpet bag? It looks like Fantastic Beasts won't keep us in the dark about what's going on in Newt's case. Representing curious muggles/no-majes around the world, Jacob descends into the bag in this new trailer, revealing a clutter of cages and other necessities for a magizoologist like Newt Scamander.
The trailer also strongly implies that Newt should have obliviated Jacob's memory, but maybe he forgot to do that, which would explain how Jacob ends up thoroughly caught up on this mess.
MACUSA's Threat-Level Clock
This thing is Molly Weasley's burrow clock times ten! The above screenshot shows us how MACUSA measures and displays the current threat level. When we spoke with production designer Stuart Craig on the set of Fantastic Beasts back in December, he mentioned that they put a lot of thought into the creation of that clock...
It has the look of an old-timey clock. The kind of clock that looks like it was plucked from a tower or something, with four facing directions. But as you can see from the visible face, the hands point to color-coded threat levels. And over on the upper right, there appears to be a ticker counting up what looks like "Witch Hunts," "Exposures" and "Obliviations."
Stuff's Going Down at the City Hall Subway station
We've known from previous trailers, and our set visit that the now-closed City Hall subway station will factor into Fantastic Beasts and Where To Find Them. This new trailer gives us new looks at the absolute mayhem that appears to be taking place there, including something creeping up the side of the walls, and later a massive flood that sends Newt running (and disapparating) for cover.
Love is in the Air
Romance! It's barely a spoiler to say that Newt and Tina will become a thing. Not only are they the male and female lead of this movie, but one of the few details offered to us in the introduction of the reference guide Fantastic Beasts and Where To Find Them is the fate of Newt and his wife Porpentina. Still, it's great to see these two sparking a connection early on.
We also glimpse what appears to be a budding romance between Jacob (Dan Fogler) and Tina's sister Queenie (Alison Sudol). Will the no-maj and the legilimens fall for one another?
Fantastic Beasts!
There's a Niffler in a jewelry display case (that has to spell disaster), some bowtruckles and two nuzzly Graphorns on the loose, among other things. Pottermore notes that those Graphorns are the last breeding pair of the species, so let's hope Newt gets them back. Meanwhile, we see Jacob running from a rhino-looking creature called an Erumpent. Lest we not forget the disaster at the Lovegoods' house in Harry Potter and the Deathly Hallows, not only should Jacob fear being gored by that thing, but its horn also has a tendency to explode. So, um, run Jacob!
Watch the new trailer next...
Fantastic Beasts and Where to Find Them arrives in theaters November 18.
Your Daily Blend of Entertainment News
0
Assistant Managing Editor
Kelly joined CinemaBlend as a freelance TV news writer in 2006 and went on to serve as the site's TV Editor before moving over to other roles on the site. At present, she's an Assistant Managing Editor who spends much of her time brainstorming and editing feature content on the site.
Your Daily Blend of Entertainment News
Thank you for signing up to CinemaBlend. You will receive a verification email shortly.
There was a problem. Please refresh the page and try again.