How Koba Will Return For War For The Planet Of The Apes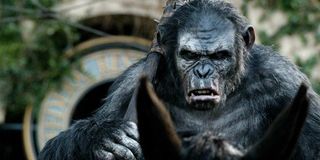 The critical praise and box office success of both Rise Of The Planet Of The Apes and Dawn Of The Planet Of The Apes means that the upcoming third installment to the franchise, War For The Planet Of The Apes, will have to do something special to eclipse its predecessors. War's task has been made even harder because it won't feature the extraordinary Toby Kebbell, who played the evil Koba in Dawn, as he met a grisly end of the blockbuster. However, Matt Reeves has admitted that Koba will still play an integral role in War from beyond the grave.
Matt Reeves made this admission to me over the weekend when I sat down with the Dawn Of and War For The Planet of The Apes director to discuss his upcoming blockbuster, which I was lucky to see extended footage and its trailer for last week. While amping up War For The Planet Of The Apes, Matt Reeves continually made reference to how much the death of Koba has affected Caesar. This led me to ask Matt Reeves if Toby Kebbell returned to shoot additional footage for War, to which he responded:
Koba's tragic death and the fact that Toby Kebbell hasn't been confirmed on War For The Planet Of The Apes' cast list had simply led me to assume that the English actor wouldn't feature. However, the way that Matt Reeves, producer Dylan Clark and visionary actor Andy Serkis, who has tremendously portrayed Caesar throughout the rebooted Planet Of The Apes franchise, kept discussing the importance of Koba raised my suspicions that he'd feature once again.
Because of the huge weight that Koba's death clearly plays on Caesar during War For The Planet Of The Apes, it seems unlikely to me that Matt Reeves would simply reuse footage from Dawn Of The Planet Of The Apes to underline their friendship. Their relationship was stretched and then ultimately destroyed over the course of Dawn Of The Planet Of The Apes, as Koba shot Caesar before Caesar then killed his old pal, despite Koba's pleas not to do so, as he insisted that apes do not kill apes. Caesar rejected this notion and then threw him off the top of a tower, which was understandable. I mean, just look at how evil Koba had become.
Surely we would need to see scenes from before Dawn that showed Caesar and Koba actually getting along for us to understand his grief. Unfortunately, we've still got quite a while until we learn whether Koba is actually in War For The Planet Of The Apes, though, as it won't be released until July 14, 2017. Stay tuned to Cinemablend over the next weeks as we reveal further updates on War For The Planet Of The Apes from my discussion with the loveable sods Matt Reeves and Dylan Clark.
Your Daily Blend of Entertainment News