The Accountant Is Outperforming One Of Ben Affleck's Most Successful Movies At The Box Office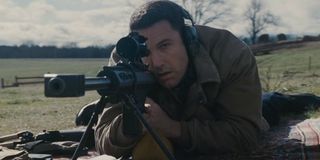 Reviews for The Accountant so far have to be described as mixed. It currently has a score of 50% on Rotten Tomatoes, and while it was able to pass the meagre 27% of Ben Affleck's last film Batman v Superman: Dawn Of Justice, that's still a disappointing score considering the talent involved. But while The Accountant's reviews have underwhelmed it made a strong start to its life at the box office on Thursday night, even out grossing the amount of 2014's Gone Girl- Ben Affleck's last thriller.
Warner Bros. have revealed (via Deadline) that The Accountant made $1.35 million on Thursday night. That put it $100,000 ahead of the $1.25 million that Gone Girl grossed when it was released on October 3, 2014. But while it has undoubtedly made an impressive start, Warner Bros. don't expect The Accountant to go on and get anywhere near the $369.3 million gross that Gone Girl managed.
The studio is still confident that The Accountant will post somewhere between $15 million and $20 million over its opening weekend, with most projections insisting that it will end up closer to $20 million. If it reaches this amount it will still be someway short of Gone Girl's $37.5 million opening weekend haul.
The main reason why The Accountant is probably going to be left flailing behind Gone Girl's amount is its middling reviews. Directed by David Fincher, boasting an Academy Award nominated performance from Rosamund Pike, and with a promotional campaign that made audiences pine to find out the conclusion to its mystery, Gone Girl was also a terrific film; something that its current 88% score on Rotten Tomatoes proves.
The Accountant revolves around Ben Affleck's Christian Wolff, an autistic accountant who primarily works with various criminal organizations, and also works part-time as an assassin. You know, like you do. J.K Simmons' treasury agent soon starts to track Wolff and, even though he has taken on a legitimate robotics company as a client, a discrepancy involving millions of dollars soon leads the body count to rise. You can check out the trailer for The Accountant below:
While The Accountant looks set to fall short of Gone Girl's gross, it is so far matching Argo's opening weekend haul of $19.5 million. It's also due to finish at the top of the box office this weekend, as Kevin Hart: What Now is on course to gross between $10 million - $14 million, while last week's number one The Girl On The Train is set to drop down 50% to somewhere between $12 million - $13 million. You can go and check out all three films at your local cinema now.
Your Daily Blend of Entertainment News