Rey And Finn Almost Had A Very Different First Meeting In The Force Awakens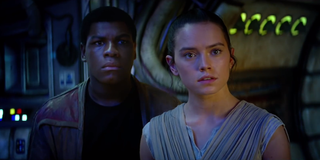 Fate paired Rey and Finn together in Star Wars: The Force Awakens...or maybe it was the will of the Force. Regardless, the circumstances of them meeting each other on Jakku were extremely hectic. Finn was a guy running away from the First Order, while Rey was patiently waiting for her family to find her on that desert planet. Thanks to BB-8 and great timing, they crossed paths and eventually built a close friendship. However, according to director J.J. Abrams, in an earlier draft of The Force Awakens' script, their first meeting had more edge to it.
J.J. Abrams revealed in the new Star Wars: The Force Awakens audio commentary (provided by IGN) that when Rey and Finn originally met, not only was Finn more forthcoming about who he was, Rey also didn't know about Luke Skywalker, Jedi and Rebellion extraordinaire. He explained:
J.J. Abrams is correct on both points. Starting off, having Finn immediately reveal he was a stormtrooper to Rey would have been a weird move, as that would have eliminated his attempts to deceive her about his past. Not in a malicious way, but simply because he didn't want her to judge him because he used to serve the First Order. Plus, if he hadn't pretended to be part of the Resistance, Rey and BB-8 might not have let him come along on their journey after escaping those TIE Fighters.
As for Rey originally not knowing about Luke Skywalker, that's wouldn't have made any sense at all! Yes, she never ventured off the desolate Jakku, but how can you have heard about Han Solo, but not know who Luke Skywalker is? That's the man who destroyed the first Death Star, led the defense of Echo Base, fought Darth Vader twice, etc. Thankfully that plot issue was also remedied, and in the end, Rey found Luke Skywalker on Ahch-To to return his old lightsaber to him. Now she's learning the ways of the Force from the aged Jedi Master.
Rey and Finn will return to the big screen when Star Wars: Episode VIII is released on December 15, 2017.
Your Daily Blend of Entertainment News
Connoisseur of Marvel, DC, Star Wars, John Wick, MonsterVerse and Doctor Who lore. He's aware he looks like Harry Potter and Clark Kent.
Your Daily Blend of Entertainment News
Thank you for signing up to CinemaBlend. You will receive a verification email shortly.
There was a problem. Please refresh the page and try again.