How Finn May Recover From His Injuries In Star Wars: Episode VIII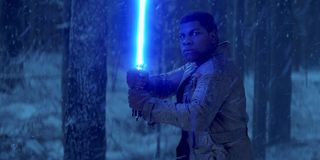 Warning: possible spoilers for Star Wars: Episode VIII are ahead!
When we last left off with John Boyega's Finn at the end of Star Wars: The Force Awakens, the former First Order stormtrooper was in bad shape. After Rey was knocked unconscious by Kylo Ren, he attempted to defend her with Luke Skywalker's lightsaber, and although he put up one hell of a fight, he was quickly defeated by the dark side user. Fortunately, Rey saved him before he was killed, and he was last seen unconscious, but safe with the Resistance. It's common knowledge that Finn will remain a key protagonist next year in Star Wars: Episode VIII, and now we may know how he'll be ready for action again. It's all thanks to the medical miracle known as bacta.
According to the folks at Making Star Wars, following The Force Awakens, Finn has been placed in a "bacta suit" to heal his injuries. At some point in Star Wars: Episode VIII (presumably near the beginning), there will be a sequence showing him being cut out of the suit, and his condition will have significantly improved. Following his recuperation, Finn will embark on a journey that will make him a "big deal in the Resistance."
For the less-hardcore Star Wars fans out there, bacta is a gelatinous healing substance used in a galaxy far, far away to regrow damaged tissue. Although bacta has been seen in numerous Star Wars stories, including the Star Wars: The Clone Wars TV series, its only movie appearance so far was in The Empire Strikes Back, where the was first introduced. After Luke Skywalker was brought back to Echo Base, he was submerged into a bacta tank to heal the wounds he received from that wampa attack. After a couple hours of floating around in the tank like a glorified aquarium-dweller, he was as good as new. Skip to the 1:15 mark in the clip below to re-watch that moment.
Although director Rian Johnson joked that he and his creative team considered leaving Finn in a coma for the duration of Star Wars: Episode VIII, rest assured that John Boyega will have plenty to do in the next main Star Wars installment once he recovers. What exactly that will be, though, remains uncertain. John Boyega has said that his part this time around will be "much more physical," so it seems like he won't be lacking for any action. There was also a rumor that came out in July that Finn will meet with an information broker named Aya (played by Kelly Marie Tran) who provides him some kind of information, but the encounter ends with him being chased by First Order stormtroopers. Whether this plot point is legitimate or not, one thing is certain: once Finn is healed, he won't go on medical leave. He'll be jumping right back into the fray.
Star Wars: Episode VIII hits theaters on December 15, 2017.
Your Daily Blend of Entertainment News
Connoisseur of Marvel, DC, Star Wars, John Wick, MonsterVerse and Doctor Who lore. He's aware he looks like Harry Potter and Clark Kent.