To 3D Or Not To 3D: Buy The Right Billy Lynn's Long Halftime Walk Ticket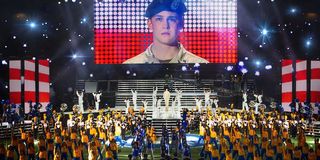 Billy Lynn's Long Halftime Walk is, without question, the most technically ambitious 3D film since James Cameron's Avatar made a major case for the format back in 2009. Additionally, it's the most ambitious experiment with frame rate increase since Peter Jackson's tentative experiment with 48 FPS during the release of The Hobbit: An Unexpected Journey. Put the two together, and what do you get? A very interesting step forward for the theatrical experience.
Which means that today's "To 3D or Not To 3D" is an extremely special experience, as we'll be evaluating the top shelf presentation of the film, which is shown in 120 FPS / 4K 3D. There's a lot of new technology involved in this presentation, and all of it changes the 3D experience from what we're normally used to. If you're looking for a review of the actual film itself, then you can go here to read our official ruling. But for now, prepare for Billy Lynn's Long Halftime Walk, as we decide whether the film is worth the extra 3D money, or if you should put that money towards season tickets to the football team of your choice.
Most "personal stories" don't seem to be the most likely candidates for 3D presentations. Yet Billy Lynn's Long Halftime Walk is an exception to that rule, as the story's intense focus on Billy and his story lends itself to a more personal mode of storytelling. Both the homecoming and actual heroism of Bravo Squad are fit to be told in the third dimension.
From the new camera technology and software to the re-designed theater screen that helps maintain the film's brightness, Billy Lynn's Long Halftime Walk was a film that immersed itself in the world of 120 FPS / 4K 3D. Ang Lee planned to make the film in that very format, which added some time onto the production schedule in order to allow for the technology to work in favor of Lee's vision. The film was shot, tweaked, and born into this format.
Billy Lynn's Long Halftime Walk has a lot of pretty impressive moments of visual assets popping off of the screen. With the many POV shots of Billy's line of sight, everything from random crowd members to the hands of his fellow soldiers pointing directly to him are thrust out of the screen. Even the occasional stray football manages to pop out into the audience, taking them by surprise.
Even more impressive is the depths of the "before the window" mechanics of the images shown in this film. While 3D conversions have done really good jobs of mimicking spatial reasoning on their best days, Billy Lynn's Long Halftime Walk manages to maintain clear delineations of characters and objects throughout the film. One particularly impressive example is when Bravo Squad is in formation in front of the hotel they're staying at, which not only clearly separates the Bravos from the background they're standing in front of, but also allows their commanding officer plenty of room to pace back and forth in front of them.
Arguably the most impressive feat of Billy Lynn's Long Halftime Walk is the fact that Real-D's brand new Ultimate Screen improves upon the 3D experience by reinventing the screen that films are shown upon. Made from a new material, and with some special bells and whistles that separate it from the typical theater screens we see now, 85% more light is reflected off of the screen, and in such a way that sitting in almost any seat in the auditorium will do. The result is a MUCH brighter image that, while still slightly dimmed by the glasses, is colorful and crisp behind your facial furniture. Of course, your mileage will vary, as only two screens in the US will be able to show the full power of the Ultimate Screen
Taking off the glasses during the experience of Billy Lynn's Long Halftime Walk showed a seriously healthy amount of blur. Interesting enough, with all of the new components to the process, this was one field that didn't really have to change all that much. With the glasses off, the blur was just as healthy as you'd expect from any other good 3D film. Yet the picture quality is much better in the 120 FPS / 4K presentation of 3D.
Unfortunately, there was one glaring problem with Billy Lynn's Long Halftime Walk, and it involved certain sequences of fast paced camera movement and Humvee driving sequences. There is some serious eye wonkage when a Humvee is bumping along the desert, or if Billy's involved in some extremely fast and fancy visual action. For the most part, the film holds up well when it comes to the visual health component.
While the 120 FPS / 4K presentation of Billy Lynn's Long Halftime Walk is extremely limited, it's also extremely worth it if you can find your way to either of the theater's playing it. The advancements made in 3D technology, while not completely perfect or ironed out, still have quite a "Wow!" factor attached to them. With further work, and hopefully more allies trumpeting the success of such a worthwhile endeavor, this new format will grow and become something ready to take on even the most high profile blockbuster on the market.
CinemaBlend's James Bond (expert). Also versed in Large Scale Aggressors, time travel, and Guillermo del Toro. He fights for The User.
Your Daily Blend of Entertainment News
Thank you for signing up to CinemaBlend. You will receive a verification email shortly.
There was a problem. Please refresh the page and try again.