11 Movies That Somehow Won The Weekend Box Office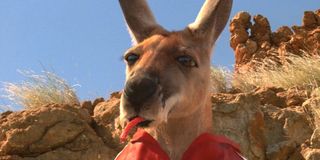 This weekend saw the invincible Jack Reacher defeated by... Madea? It was a bit surprising to see the latest Tyler Perry movie top the box office over a Tom Cruise action movie, but it's hardly the first time such a thing has happened. While it's usually fairly easy to predict which movie is going to win the box office, whether or not it's any good, every once in a while something crazy happens and an insane movie ends up taking home the crown.
Many of these are bad movies, movies so bad that there's no way people didn't know they were bad going in. Other are simply odd movies that you might expect to bring in some decent cash, but that would be unlikely films to become number one.
Kangaroo Jack
What it was up against: Martin Lawrence's National Security; Just Married with Brittany Murphy and Ashton Kutcher
How it won: It was a month after the release of The Lord of the Rings: The Two Towers and so pretty much everybody had seen that one. It was a close thing between a Martin Lawrence comedy, especially on Martin Luther King Jr. weekend of 2003. Yet somehow, a movie about a kangaroo who steals $50,000 was able to squeeze out the win. We're going to chalk this up to it being the closest thing to a kids movie that was out during the long weekend.
The Nutty Professor II: The Klumps
What it was up against: Thomas and the Magic Railroad was the only other major release that weekend.
How it won: Eddie Murphy's remake of The Nutty Professor had been a huge hit. A sequel was no surprise, however, this film had no business winning a weekend in the middle of the summer of 2000. However, X-Men was in its third week, and there was literally one other new movie in wide release that weekend, and it was aimed at the youngest children. The Klumps really lucked out on that one.
War Room
What it was up against: Straight Outta Compton, which had been number one for the previous three weeks; a Transporter movie without Jason Statham, _A Walk in the Woods... _yeah, I don't remember that one, either.
How it won: Religious-themed movies often put up solid box office numbers if their target audience shows up at the theater. Less than $10 million is not that impressive, but this wasn't even War Room's opening weekend, it was their second, they simply lost less of their audience than the much older Compton from week-to-week, and literally nobody cared about anything else that came out.
Fahrenheit 9/11
What it was up against: _White Chicks, The Notebook_
How it won: Michael Moore was likely at the height of his popularity when he released his documentary about the events of September 11, 2001. However, you still wouldn't expect a documentary to take the top of the box office, and yet it did. It also did so while being in a third as many theaters as either The Notebook or White Chicks, which came in $4 million behind it. Coming out a month after the third Harry Potter film, and the weekend before Spider-Man 2 also didn't hurt.
Meet the Spartans
What it was up against: Rambo, the fourth one; Cloverfield's second week
How it won: To be fair, this one was really close. Rambo very nearly took the weekend, only about $300,000 separated the two films, but in the end, the next entry in a very nearly endless line of spoof films won the weekend with just short of $19 million. This would be the last one of these monstrosities to hit number one, the recent 50 Shades of Black may have signaled the end of this trend for awhile. We can only hope.
Hide and Seek
What it was up against: Alone in the Dark opened; Are We There Yet? and Assault on Precinct 13 in their second weekends
How it won: Did you even remember that Robert De Niro starred in a horror movie in 2005? Likely not, and yet, it was the most popular movie in the theater in the last weekend of January. There was only one other major release that weekend, which was Uwe Boll's abomination based on the Alone in the Dark video game. Everything else was in at least its second week. Are We There Yet? was only able to hold on to second place.
Dolphin Tale
What it was up against: Ummm... 50/50 we guess, and a bunch of other stuff we barely remember ever came out: Dream House? Courageous? Also, Moneyball in its second week, and the 3D release of The Lion King in its third.
How it won: _Dolphin Tale_ is a perfectly sweet movie, but it's not "box office champ" material. And yet, through a series of crazy releases. it did the job. The film had actually opened in third place the week previously behind The Lion King and Moneyball, However, a week later, no new film opened in better than fourth place and of the three movies from the week before, Dolphin Tale saw their receipts drop off by the smallest amount.
The Roommate
What it was up against: The 3D spectacle film Sanctum; the wide release of The King's Speech
How it won: The first weekend of February 2011 was so devoid of theatrical content that a movie that was essentially a college-age version of Single White Female won the box office, and did so handily. The only other movie released that weekend was an Australian film relying on 3D spectacle to carry it through. Even films in their second week, like The Mechanic, fell behind The King's Speech which finished in fourth.
RV
What it was up against: United 93, Akeelah and the Bee
How it won: Robin Williams doing straight comedy is always worth a few million bucks, and RV is hardly the worst example of it, but it's unlikely the movie expected to win the box office in 2006. It would seem, however, that people were more in the mood for comedy than the heavy drama of United 93. Also, people apparently weren't into spelling bee movies. Akeela opened in eighth place. Scary Movie 4 opened with almost three times the box office as RV, but that was three weeks previously.
Man of the House
What it was up against: The Brady Bunch Movie in its third week;Hideaway with Alicia Silverstone and Jeff Goldblum; also Roommates which had D.B. Sweeney in the lead... no, really.
How it won: A movie in its third week placed second, while Pulp Fiction and Forest Gump, two movies that were doing post-Oscar victory laps, were in the top 10. There were three new movies released on this week in March 1995 and we don't remember any of them. The fact that this Disney movie starring Chevy Chase and Jonathan Taylor Thomas was the one that took the crown was probably due to kids not having anything else to see.
G-Force
What it was up against: Horror movie Orphan and rom-com The Ugly Truth with Gerard Butler and Katherine Heigl; also Harry Potter in the Half-Blood Prince was in week number two.
How it won: Disney once made a CGI action movie about a group of special forces guinea pigs. The only thing more insane than that sentence is the fact that people actually went to see it. The weekend after Harry Potter took the top spot with nearly $80 million at the box office, it took less than half of that for the guinea pigs to do the same. Harry Potter still placed second for the weekend, ahead of the other two new entries, and only a couple million behind G-Force.
CinemaBlend's resident theme park junkie and amateur Disney historian. Armchair Imagineer. Epcot Stan. Future Club 33 Member.
Your Daily Blend of Entertainment News
Thank you for signing up to CinemaBlend. You will receive a verification email shortly.
There was a problem. Please refresh the page and try again.