Someone Added David S. Pumpkins To A Bunch Of Horror Movies, And It's Really Funny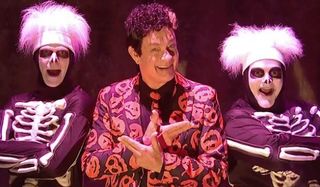 There's only one Tom Hanks performance that people are talking about this week. No, not his third outing as Robert Langdon in the despicably bad Inferno, but his role as David S. Pumpkins in the Saturday Night Live sketch "Haunted Elevator" from last weekend. It's instantly become a classic. So it's little surprise that it has inspired a whole host of homages, the best of which comes in the shape of David S. Pumpkins, as well as his accompanying skeletons and hypnotic theme, being added to several horror movies. You can watch it and fall in love with David S. Pumpkins all over again by clicking below.
Is it just me or did The Shining, Halloween, Insidious, The Ring, Scream and The Grudge all just instantly get umpteen times better with the inclusion of David S Pumpkins? Of course they did. Because that's what David S. Pumpkins does. He makes the world a better and funkier place. It's just that his name gives you the false impression that he's going to be scary when all he wants to do is dance, smile and slap his skeletons on the behind.
Now there might be some of you out there that haven't latched onto the David S. Pumpkins phenomenon quite yet. If that's the case, then not only are you missing out, but you can immediately right this wrong by watching the "Haunted Elevator" sketch from Saturday Night Live in which he premiered below. And even if you have watched the sketch before then you can relive its brilliance. You know that you want to.
I still can't really put my finger on why it's so funny. And by this point, I should at least have an inkling because I've now watched it at least 17 times over the last five days. All that I do know is that I need more David S. Pumpkins in my life, and a lot of people feel the same way, too.
That's because the David S. Pumpkins sketch has already inspired several think pieces that ponder and over-analyze whyTom Hanks dancing in a wig with two overtly sexual skeletons next to him was so funny. At the same time, it has blossomed into a full-on viral sensation. Pumpkins' outfit has now become the go-to Halloween costume choice for hipsters, and it has even been reported that similar pumpkin-infested suits have sold out across the world wide web.
All of which leaves us with one final and vital question: is it too late to make David S. Pumpkins president?
Your Daily Blend of Entertainment News