Watch Saturday Night Live Brutally Slam Donald Trump In Cold Open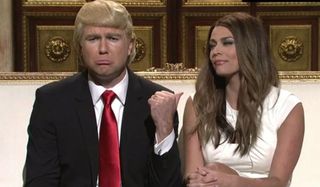 What did you expect--Saturday Night Live would wait even a few minutes to start hounding presidential candidate Donald Trump during their season premiere? After the NBC sketch comedy series made sure to previously announce which castmember would be portraying the reality TV personality/billionaire businessman in this upcoming season, they jumped right into it in the cold open of the season premiere. And they definitely didn't bother to hold back--not one bit. Check it out.
The message comes from Donald Trump (Taran Killam) and his wife Melania Trump (Cecily Strong) as the pair address some of the more criticized moments within Trump's current presidential campaign. Ranging from the reasoning behind Trump's comments about Fox News' Megyn Kelly all the way to his opinions on immigrants, Saturday Night Live left no stone unturned. And with Taran Killam's Trump referring to himself as "almost certainly your next president" the message was abundantly clear, there's going to be a whole lot of Trump parody on this season of SNL.
The success of this skit comes primarily from the shifting focus onto Cecily Strong's Melania, who loves to point out just how brilliant her husband is. She goes so far as to point out how his blunt comments are all a ruse to get poll numbers up, and even makes sure to note the esteemed university that Donald learned all these traits from:
Cecily Strong stole the show in her playful praise of the Republican presidential candidate. That's not to say that Tarran Killam didn't do a fine job at impersonating Trump. It was there at points, and he definitely had some of the facial expressions and hand motions down. It played resemblance to Jimmy Fallon's recent impression though. But, this certainly won't be the last we see of Killam's version, so expect improvement over time.
The world of comedy has been thrilled with the current run of Donald Trump in the media. His blunt and controversial campaign has become prime material for comedy parody. With his celebrity status, this wasn't the first time that SNL parodied the business mogul, and it certainly won't be the last. Hillary Clinton showed up on last night's show--it's only a matter of time till the real Donald Trump stands up as well.
You can catch Saturday Night Live on Saturdays at 11:30 p.m. ET on NBC.
Your Daily Blend of Entertainment News
Thank you for signing up to CinemaBlend. You will receive a verification email shortly.
There was a problem. Please refresh the page and try again.