What Roger Moore Thinks About A Possible Female James Bond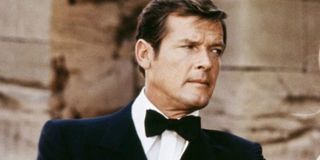 Roger Moore has never been afraid to talk about James Bond, despite the fact that the last time he donned a suave suit and drank a martini (shaken, not stirred) was in 1985's A View To A Kill. The 89-year-old clearly still feels protective over the character, which is why he always seems wary about any possible alterations to 007. So when he was recently asked whether or not James Bond could ever be portrayed by a woman, he was adamant that couldn't be the case. He was still all for a female version of the spy having her own franchise, though.
After touting the likes of Aidan Turner and Tom Hiddleston as potential new James Bonds, Roger Moore has then asked by TalkRadio (via The Huffington Post) about the possibility of a female incarnation. To which he responded:
Since Sony currently own the rights to the James Bond franchise, and recently encountered huge problems trying to reboot the Ghostbusters franchise with an all female cast, it's highly unlikely that they would be chomping at the bit to experiment with Jane Bond.
This will be devastating news to the hoard of James Bond fans that are eager to see a woman be given the chance in the role, which has only ever been portrayed by six male actors. X-Files actress Gillian Anderson recently led the charge for 007 to be reimagined as Jane Bond, taking to Twitter to post the following picture that instantly garnered support:
At the moment there isn't actually a position available, as earlier this month Daniel Craig hinted that he'd want to return for a fifth time as James Bond. There had previously been rumors that Craig would leave the role after Spectre, which failed to match either the box office or acclaim of its predecessor Skyfall- especially because of comments he made about how strenuous it was filming the blockbuster.
But a more sobering Daniel Craig admitted at the start of the month, "I've got the best job in the world doing Bond," before adding, "If I can keep getting a kick out of it, I will." It's also been rumored that producer Barbara Broccoli is so intent on Daniel Craig returning for another outing as Bond that she's willing to pay him $150 million to do so, figures that Craig himself has debunked.
Even if Daniel Craig doesn't return, Tom Hiddleston is still the odds on favorite to replace him in the role, despite the fact that the likes of Emily Blunt, Felicity Jones, Emilia Clarke, Carey Mulligan, or Daisy Ridley would be just as good, probably better.
Your Daily Blend of Entertainment News