Why Olivia Munn Thinks On-Screen Love Scenes Are So Hard To Film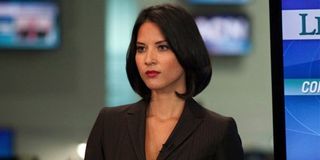 Over the last few years Olivia Munn has popped up and delighted in a number of films, from the likes of Iron Man 2 to Magic Mike, as well as Deliver Us From Evil and X-Men: Apocalypse. But while she's doing rather well at this acting malarkey, there is one aspect of the profession that she's now admitted she still rather despises. Because it turns out that Munn really struggles when it comes to faking movie romances. But Munn doesn't just blame herself for these troubles, insisting that it's as much to do with the clichéd writing of female characters.
Olivia Munn made this revelation while talking to Entertainment Weekly, admitting that she originally had some reservations about a romantic scene in her upcoming film Office Christmas Party because of her past issues with similar scenes. Munn explained:
Fortunately for Olivia Munn, she was able to overcome these concerns with Office Christmas Party, as she sat down to talk about the scene and how to make it feel real with its directors Josh Gordon and Will Speck. Munn added that together they made the scene feel "more organic" and "much more real" than her previous romantic scenes. While the story has an even happier ending, because she admitted that it actually ended up becoming one of her favorite scenes in the entire movie.
In Office Christmas Party, Olivia Munn's Tracey find herself becoming romantically linked with her co-worker, played by Jason Bateman. But that's very much second fiddle to the raucous and chaotic office Christmas party that's organized by T.J. Miller and Kate McKinnon, which soon goes completely out of control. You can get a sneak peak at just how outrageous the antics and shenanigans in Office Christmas Party are by watching its trailer below.
There's high hopes for Office Christmas Party, too, because it has assembled a pretty stellar cast, which as well as Bateman, Munn, Miller and McKinnon includes Jennifer Aniston, Jillian Bell, Vanessa Bayer, Courtney B. Vance, Rob Corddry, Sam Richardson, and Randall Park, while it has been directed by Josh Gordon and Will Speck, who previously oversaw Blade Of Glory and The Switch. We'll get to see if it can live up to this promise when Office Christmas Party is released on December 9.
Your Daily Blend of Entertainment News