Olivia Munn Joins Office Christmas Party, Which Is Already Packed With Celebrities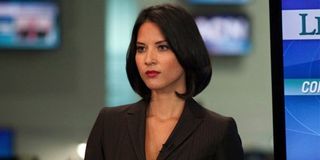 It's shaping up to be a big year for Olivia Munn. She's already shown up in Zoolander 2 and Ride Along 2, and earlier today we got our best look yet at the actress kicking ass in the latest trailer for X-Men: Apocalypse. That's easily her highest profile part and film to date, but she just added another potentially awesome role in the upcoming comedy Christmas Office Party, where she joins what was already a fantastic, not to mention big name, cast.
Scheduled to shoot this spring, with a release scheduled, you guessed it, smack in the middle of the holiday season, Christmas Office Party is in the process of getting all their ducks in a row. According to Variety, one of those ducks is now Olivia Munn. The former Attack of the Show star has been steadily increasing her star power over the last couple of years, and she is reportedly now in talks to team up with what has already become a stacked list of top-tire talent. In addition to Munn, the film stars Jason Bateman, Jennifer Aniston, Deadpool sidekick T.J. Miller, new Ghostbuster Kate McKinnon, and Fresh Off the Boat star Randall Park.
Surprising as it may sound, the plot of Office Christmas Party revolves around an actual Christmas party in an office. From what little we know about the plot, the members of the ensemble cast find themselves in the midst of a holiday gathering at work that takes a turn for the worst and starts to devolve. While that's not particularly informative or specific, it's a strong enough premise, especially with this cast, to make for some ridiculously entertaining, and probably crass, holiday fun. Maybe it will be this year's version of The Night Before, a crude new holiday season classic.
Office Christmas Party will be helmed by Will Speck and Josh Gordon, the directing duo behind the Will Ferrell and John Heder ice skating comedy Blades of Glory, which might clue you into the tone and style we can expect. This is also their second endeavor fronted by Jennifer Aniston and Jason Bateman, as that pair also starred in 2010's romantic comedy-drama The Switch for Speck and Gordon.
Following runs on The Newsroom, her new role as the mutant Psylocke in Bryan Singer's X-Men: Apocalypse, and numerous other projects, Office Christmas Party is another nice addition to Olivia Munn's ever expanding resume. She also has the crime drama Three Seconds with Josh Brolin and Luke Evans in the works. Which has quite a bit of promise.
With production slated to begin later this year in Atlanta, Georgia, Office Christmas Party is already set to spread holiday cheer on December 9 of this year.
Your Daily Blend of Entertainment News